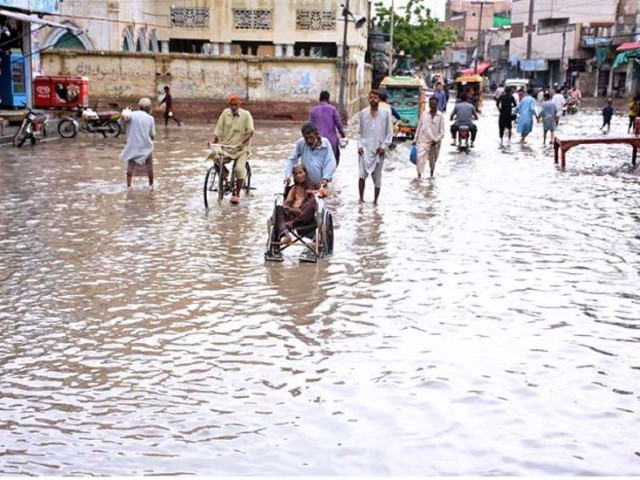 ---
HYDERABAD:
The unrelenting spell of the monsoon which started on August 17 has flooded large parts of Sindh, taking lives of at least 34 persons in several districts and injuring a still larger number of the people. The Pakistan Meteorological Department recorded on Friday 340 millimeter rain in Padedan town of Naushehro Feroze district which is the highest amount of rain in a day during the ongoing monsoon season.
According to the PMD, Shaheed Benazirabad received 146 mm, Larkana 126 mm, Sukkur 125 mm, Jacobabad 93 mm, Khairpur 91 mm, Sanghar 81 mm, Dadu 69 mm, and Hyderabad's Tando Jam town 30 mm. The heavy downpour has developed pressure on the levees of the freshwater and saline canals which developed breaches in many districts, submerging hundreds of villages and disconnecting road networks of hundreds of other villages.
A 200 feet rupture appeared in the Qadirpur Shank embankment in Ghotki district, inundating hundreds of villages. The local people claimed that the water from the breach is likely to spread to eight to 10 dehs. Ghotki's deputy commissioner has written a letter to the provincial government to declare an emergency in the affected areas.
Read more: Heavy rains, floods cause internet outages in Pakistan
Five children drowned in a rainwater developed lake in Tando Allahyar district on Friday but three of them were rescued. Anas Kashmiri, 10 years old, and Zaib Kashmiri, 12 years old, were however pulled out dead. Their family accused the municipal officers for the deaths of the children because despite their complaints they did not drain out rainwater.
Three houses collapsed in Mehar taluka of Dadu district killing a woman and two men. A woman and her two sons lost their lives when the roof of their house caved in in Larkana. Other incidents of collapse of houses, roofs and walls claimed the lives of three siblings in Darya Khan Mari village in Nawabshah, a man and his son in Tharu Shah, a man and child in village Waris Dino Maachi in Larkana, a woman in Rato Dero and a girl in Thull town of Jacobabad.
A minaret of a mosque fell on the ground, leaving 10 persons injured in a locality of Naushehro Feroze district. The unremitting rains, which started at the end of June, have turned many urban and rural towns of Sindh into lakes. Thousands of villages have come under water. The torrential showers have also once again exposed the poor drainage networks in the cities and rural areas of the province.
The farmers claim that they sustained financial losses of over Rs50 billion by early August. As the rains have continued through the month, more losses are likely to surface. The Sindh government has declared many parts of nine districts in the province as calamity hit.
COMMENTS
Comments are moderated and generally will be posted if they are on-topic and not abusive.
For more information, please see our Comments FAQ