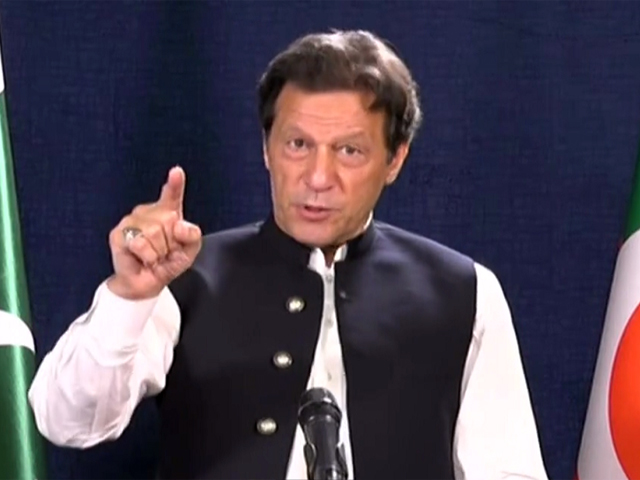 ---
ISLAMABAD:
Former prime minister Imran Khan on Friday stunned the nation when he claimed that his chief of staff Dr Shahbaz Gill was sexually abused, vowing that he would leave no stone unturned to bring to justice those who were responsible for mentally and physically torturing his aide.
Announcing taking out a rally on Saturday (today) against the alleged torture on his aide facing charges of inciting mutiny in the army, the PTI chairman said that he has obtained detailed information about the "inhuman treatment" meted out to Gill and questioned "who tortured Gill", especially, when the capital's police said it did not inflict any torture.
Gill was arrested from Bani Gala Chowk in Islamabad a few days ago after a video clip of his controversial remarks aired on a television channel went viral on social media. He was subsequently booked on charges of inciting mutiny in the military. However, roughly 10 days after his arrest, the PTI chairman and the party leadership adopted an offensive mode with all guns blazing and decided to take to the streets.
After seeing photos and videos showing Gill gasping for air while being taken to the court and hospital, the PTI chairman went to see Gill at the Pakistan Institute of Medical Sciences (PIMS) on Friday evening but was denied permission.
Talking to the media at PIMS, the former PM said that if a political worker can be tortured, one could imagine what an ordinary citizen goes through, adding that such "inhuman treatment" and "torture of a political worker" was unacceptable.
"All the pictures & videos show clearly [Shahbaz] Gill was tortured both mentally & physically incl[uding] sexual abuse - most too gruesome to relate. He was humiliated to break him down," Imran tweeted while sharing a video of Gill wherein he could be seen pleading for an oxygen mask.
Read: IHC reserves decision on maintainability of medical board plea
While questioning who tortured Gill, Imran without specifically naming anyone stated that "there is a general perception in the public at large & in our minds too as to who could have carried out the gruesome torture", warning "remember the public will react". Subsequently, Imran vowed to leave "no stone unturned to find out those [who are] responsible & bring them to justice."
Meanwhile, the PTI leadership strongly condemned how Gill was being treated in detention, saying the medical reports were "very alarming". Former foreign minister and PTI vice chairman Shah Mahmood Qureshi said that the power and revenge has blinded the rulers sitting in Islamabad so much that they are violating all democratic values and human rights as a "political prisoner Shahbaz Gill is being subjected to the worst form of mental and physical torture". Qureshi also vowed that the "perpetrators" of the "barbaric violence" would surely and soon be held accountable.
In a statement after a meeting of the PTI's senior party leadership presided over Imran, PTI Central Senior Vice President Fawad Chaudhry said that the party strongly condemned the physical, mental and sexual violence against Gill, adding that he was "stripped naked and tortured".
Fawad said that any decent person could not support such violence which was why it was being condemned by all political parties. "The medical reports and photos showed that Gill was subjected to inhuman treatment and all the reports are being handed over to the relevant institutions," he said.
Fawad announced that Imran Khan would lead a rally against the torture from China Chowk Islamabad to F-9 Park, saying organisations of all divisional headquarters across the country would take out rallies, which would be led by the local leadership and PTI chairman would address them.
These protest rallies would be taken out to denounce violence against Gill and curbs on freedom of expression, he said, expressing that the "dark night would end soon and sun would surely rise". He said that Imran went to meet Gill at PIMS hospital to assure him that the entire party stood by him.
Referring to the PTI's planned rallies, he said that Imran would start a rally from Rawalpindi on August 21 and the series would continue till September 10. He said that the end of the government was inevitable before September 10, reiterating that political stability could only be achieved in Pakistan through fresh, fair and transparent elections.
Meanwhile, PTI leader Dr Babar Awan while addressing a news conference said that Gill was an asset of the PTI and the whole party was standing to defend him. Awan said that he could not tell what crime was committed against Gill, adding that Gill was tortured in such a way that "neither it can be told nor shown". Expressing that the traditions and Islamic values bar him from giving exact details, Awan questioned: "What could be worse for a man if he is stripped naked?"
COMMENTS
Comments are moderated and generally will be posted if they are on-topic and not abusive.
For more information, please see our Comments FAQ