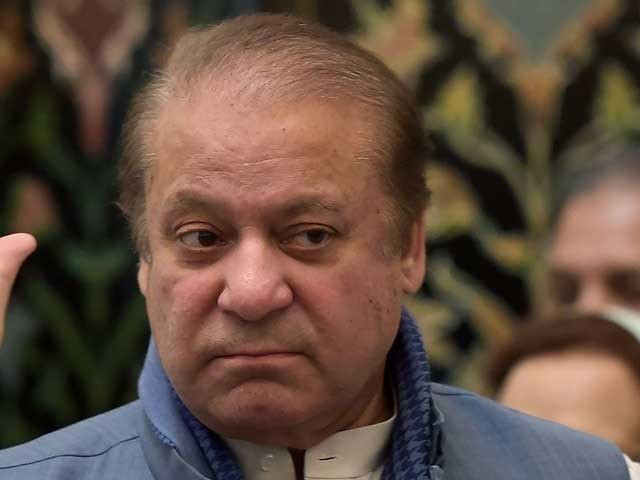 ---
LAHORE:
Despite claims that Nawaz Sharif was returning to the country next month, party leaders have denied that the PML-N supremo was appearing on the political firmament anytime soon, while some suggested it could be a mere 'red herring' to counter PTI's rising popularity.
Speaking on the condition of anonymity, two party leaders revealed to The Express Tribune that there was no definitive decision regarding Nawaz Sharif's return to Pakistan. They admitted that there was a consensus among party leaders that he should return at the earliest but beyond this, there was no word as to when.
Both party leaders said that the party has neither officially confirmed nor denied the said claim, but that alone does not lend this speculation any credence.
A red herring?
One of the party leaders, who hails from central Punjab, pointed out that there was a possible advantage of making this claim at this juncture as it sways public attention from PTI's rising popularity to Nawaz's return and serves as a boost to the flagging morale of the party workers.
However, he noted that it also works as a double-edged sword as this debate also brings to fore the subject of his controversial stay in London, where he was currently residing for his treatment since 2019.
The other leader said that the party supremo may return in September but that was "hope of a party worker, not a decision".
He said that no decision regarding the elder Sharif's return has been communicated to the party, adding that his homecoming depends on a set of factors, including his health, assurance of being given a level playing field and another guarantee that the 'word' will be kept and honoured.
He said that the party can get all legal matters sorted out, but those remedies might be undone soon after his return, which may land him in neck-deep trouble.
He said that there was a consensus in the party that Nawaz should return for lifting the party's fortunes. Without his return the party might not be able to reinvigorate its workers, and pay a heavy price in elections, he added. He said that hopefully Nawaz Sharif would return in time, and see the party through these difficult times.
Sharif family spokesperson, whom The Express Tribune had talked to very recently, had said that there was no decision regarding Nawaz Sharif's return. He said whenever that decision will be taken it will be made public by the party spokesperson, not by any singular leader.
MNA Waheed Alam Khan said there was no decision regarding Nawaz Sharif's return, at least not to his knowledge. He said Nawaz will return to the country soon, that is as far they know.
Senior politician MNA Syed Javeed Hussain said that he was not in the know of any plan regarding Nawaz Sharif's return.
He said that the party will make it public when this will be decided. Regarding his statement, he said that this was Javed Latif's personal views and do not reflect the party's decision-making. He said that it was indeed better to wait for things to be decided before being announced.
PML-N MNA Mian Nawaz Latif, a day earlier on Monday, held a press conference, alongside party Punjab spokesperson Azma Bukhari, to claim that Mian Nawaz Sharif was returning to Pakistan in September. Mian Javeed Latif had made similar claims several times in the past as well, and the party distanced itself from his statement every time.
Mian Javeed Latif told The Express Tribune that the decision has indeed been taken but the date has not been finalised. Asked about misfires before, he said that Nawaz Sharif has indeed been ready since last year to return, but couldn't due to a wide range of factors. But now things were different. He refused to answer the question of party leaders disowning his statement.
Party's spokesperson and Federal Minister for Information Marrium Aurangzeb did not respond to the queries that this correspondent dropped, requesting her to either confirm or deny Mian Javeed Latif's claim. Other known party leaders refused to talk on this subject.
COMMENTS
Comments are moderated and generally will be posted if they are on-topic and not abusive.
For more information, please see our Comments FAQ