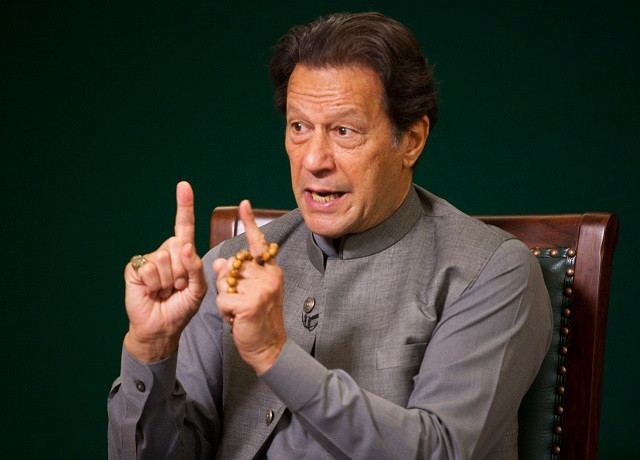 ---
ISLAMABAD:
PTI Chairman Imran Khan on Saturday rolled up his sleeves to up the ante against the ruling coalition led by PML-N from all nine general seats of the National Assembly, submitting his nomination papers as a lone player as the deadline for the process ended.
The nomination papers were submitted in all nine constituencies that fell vacant after the NA speaker accepted the resignations of 11, including two seats reserved for women, out of 131 PTI lawmakers.
The process will be now followed by canvassing, with Imran zooming around the constituencies to tickle the voters out of their homes on September 25.
On the reserved seat for women in Khyber Pakhtunkhwa (K-P), Shandana Gulzar, Roheela Hamid and Mehwish Ali Khan have been nominated.
The PTI chief also nomination papers for three Karachi constituencies – NA-246, NA-237, and NA-239 – through party leaders. Former Sindh governor Imran Ismail submitted Imran's nomination papers for the Karachi constituency NA 246 by-election.
Similarly, apart from Karachi's constituencies, he will run from NA-22, NA-24, NA-31, NA-45, NA-108, and NA-118 — situated in Mardan, Charsadda, Peshawar, Kurram, Faisalabad, and Nankana.
Read more: Imran to contest by-elections on nine NA seats simultaneously
Meanwhile, Haji Shaukat Ali filed nomination papers for Peshawar constituency NA-31 on behalf of Imran. He also filed nomination papers as a cover candidate.
A day earlier, the former prime minister submitted his nomination papers for NA-118 Nakana Sahib-II. Party leader Ijaz Ahmad Shah – elected from the same constituency – and other PTI leaders submitted the papers.
It is pertinent to note that Haji Ghulam Ahmad Bilour, the Awami National Party (ANP) candidate for NA-31 Peshawar who has three by-poll wins from the same constituency under his belt, is once again coming face to face on September 25 with Imran, whom he lost to in the 2013 general elections.
From NA-108 Faisalabad, the PTI chief would take on PML-N leader Abid Sher Ali. According to the ECP, a total of 18 candidates have filed their nominations for the by-polls in the constituency.
The former premier had earlier announced that he would contest from all constituencies, raising the stakes of otherwise considered dull by-polls and presenting the contest as Imran Khan versus the coalition government.
The move to contest from all nine constituencies simultaneously is unprecedented in the country's political history.
Also read: Petition filed against Imran for contesting on nine NA seats in by-polls
According to the schedule issued by the Election Commission of Pakistan, the election in these nine constituencies will be held on September 25. Hours after ECP had announced elections on the vacant seats, PTI had announced that Imran would contest by-elections on nine vacant seats.
In 2018, PTI Chairman had made history after he emerged victorious on five National Assembly seats. Imran had defeated political heavyweights, including PML-N's Saad Rafique in Lahore (NA-131) and former prime minister Shahid Khaqan Abbasi in Islamabad (NA-53). He had also won in Bannu (NA-35), NA-243 in Karachi, and his home constituency in Mianwali (NA-95).
The ECP had previously accepted 11 out of the 131 resignations tendered by the PTI MNAs, following the removal of the party chief from the office of the prime minister back in April this year.
According to ECP's schedule, the candidates can submit their nomination papers from August 10 to 13, which will be verified by August 17, whereas the election symbols will be issued to the candidates on August 29.
On July 28, NA Speaker Raja Pervaiz Ashraf accepted the resignations of 11 PTI members exactly 109 days after they resigned from their seats.
The NA speaker had accepted the resignations of several key PTI leaders, including former human rights minister Shireen Mazari, ex-interior minister Ijaz Ahmed Shah, ex-state minister for parliamentary affairs Ali Muhammad Khan and ex-state minister for information and broadcasting Farrukh Habib, under Article 64 (1) of the Constitution.
The other PTI lawmakers whose resignations have been accepted are Fazal Muhammad Khan, Shaukat Ali, Fakhar Zaman Khan, Jamil Ahmed Khan, Muhammad Akram Cheema, Abdul Shakoor Shad and Shandana Gulzar Khan. Mazari and Shandana were elected on the reserved seats for women from Punjab and Khyber-Pakhtunkhwa, respectively.
COMMENTS
Comments are moderated and generally will be posted if they are on-topic and not abusive.
For more information, please see our Comments FAQ