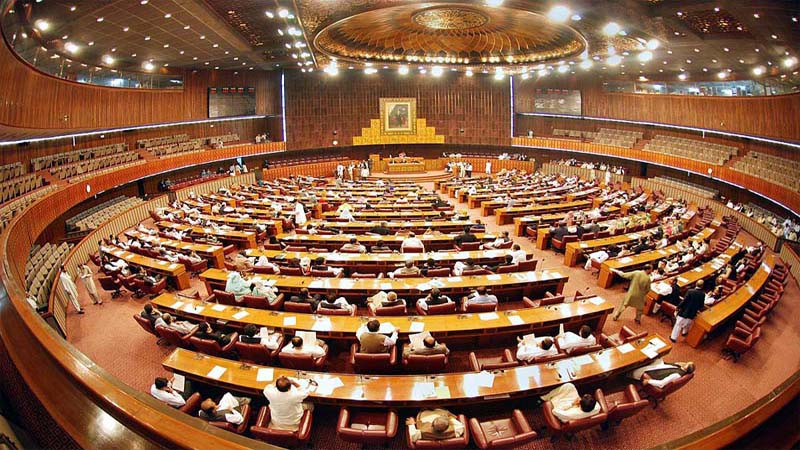 ---
ISLAMABAD:
The hate campaign on social media against the martyrs of the army helicopter in Balochistan earlier this month echoed in the National Assembly on Wednesday, with Speaker Raja Parvaiz Ashraf warning that those insulting the national institutions, including the Pakistan Army, would be held accountable.
During the session, chaired by Ashraf, the house declared seat of Pakistan Tehreek-e-Insaf (PTI) lawmaker and former federal minister, Muhammadmian Soomro, vacant because of his consistent absence for over 40 days.
While expressing his views on the hate campaign on the social media platforms, the speaker condemned the negative language used about the Pakistan's forces. The house would hold those who insulted the national institutions, including the Pakistan Army, accountable," he added.
"The house stands with the families of its soldiers and martyrs. Propaganda against national institutions falls under the category of anti-nationalism. Talking against the country's institutions, including the army, is a violation of the Constitution," he said.
The Public Accounts Committee Chairman Noor Alam Khan sought the speaker's ruling about the protection of the proceedings of the house committees. The proceedings, he said, enjoyed constitutional protection and could not be challenged at any forum.
"We respect every institution and appear in courts but if someone infringes upon the fights of the National Assembly, it is our right to stop it. Enacting and amending laws is the prerogative of the National Assembly," Khan said.
He explained that the committee could review the public issues under its rules, adding that freedom of expression was important but disgracing anyone would not be allowed. The limits of each and every institution are defined in the Constitution, he said.
Later, the speaker placed the leave application of Muhammadmian Soomro, who was elected on the PTI ticket from NA-196, Jacobabad, in the house. The speaker rejected Soomro's application because it was not given within the stipulated time of 40 days.
Shahida Rahmani of the Pakistan Peoples Party (PPP) then moved a motion to declare the seat of Soomro vacant. She stated that Soomro was absent from the House for 40 consecutive days. The house unanimously approved the motion to de-seat Soomro under Clause 2 of the Article 46 of the Constitution.
During the Question earlier, Climate Change Minister Sherry Rehman informed the House that 14 inquiries were pending with the National Accountability Bureau (NAB) regarding the Billion Tree Tsunami in Khyber-Pakhtunkhwa.
COMMENTS
Comments are moderated and generally will be posted if they are on-topic and not abusive.
For more information, please see our Comments FAQ