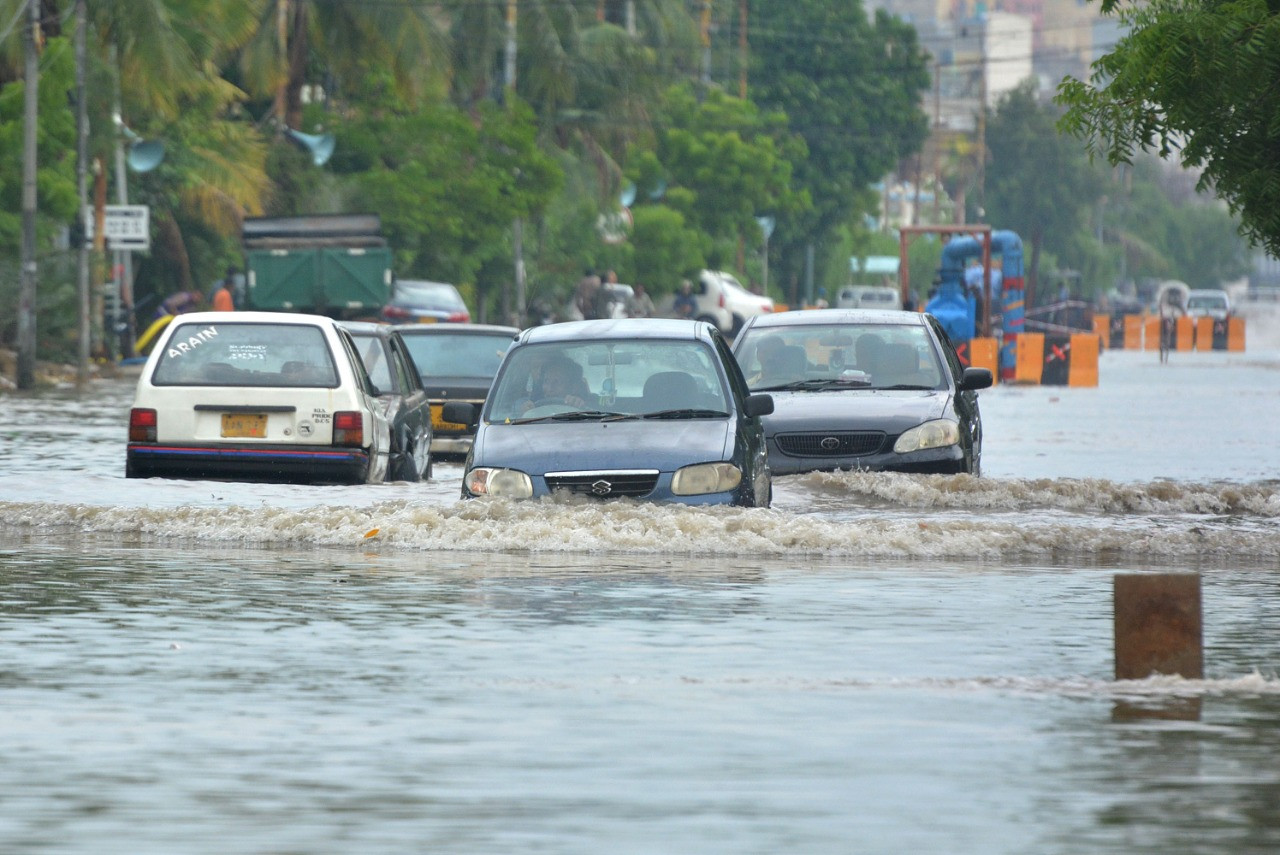 ---
KARACHI:
Various parts of Sindh, including Karachi, received medium to heavy rains along with strong winds on Wednesday as the fourth monsoon spell entered the province that is already reeling from the previous spells.
"Another weather system emerging from the Bay of Bengal and traveling across central India is likely to join the clouds dumping rain on Karachi on Thursday. It will be a double whammy for the metropolis," Karachi Chief Meteorologist Sardar Sarfaraz told The Express Tribune.
"One after another weather system is heading towards the port city, so we cannot say that it is a different spell of monsoon. We may say that it is the fourth spell coming in installments," he said.
As usual, the sewerage system collapsed, causing urban flooding in many areas including the DHA, Clifton, Tower, Korangi Industrial Area, Shahrah-e-Faisal, Islamia College, Power House Chowrangi, Guru Mandir, Bahadurabad and Sharafabad. Municipal authorities were equally incompetent in upscale and low-income localities in draining out the rainwater.
According to the Pakistan Meteorological Department (PMD) forecast, another rain spell will enter Sindh on Thursday. This spell could dump up to 150mm rain on the city which could be followed by up to 150mm rains. Moreover, the effects of successive weather systems may persist till the morning of August 16.
The Karachi chief meteorologist said that heavy rainfall with thundershowers is likely to last from Thursday to Sunday. Subsequently, a new monsoon spell will enter Sindh from the Bay of Bengal, which may cause heavy rains with thundershowers in the city between August 17 and 18.
According to details, sea breeze remained suspended in the city on Wednesday and northwest winds from Balochistan remained extremely hot and humid. However, the weather situation changed in the afternoon with the onset of the fourth monsoon spell, which emerged from the suburbs of Malir, Superhighway, Scheme 33 and Gadap Town and later on engulfed the entire city through medium to strong downpour in various areas, including Quaidabad, Saddar, Old City Area, MA Jinnah Road, Tariq Road, Bahadurabad, Guru Mandir, New Karachi, North Karachi, Gulshan Iqbal, Liaquatabad and II Chundrigar Road. The wind speed was recorded at up to 81km per hour during the rains.
According to the Meteorological Department data, the highest rainfall (32mm) was recorded in Quaidabad. The PAF Faisal Base and Surjani received 26mm, Jinnah Terminal 25mm, Gadap 23.4mm, Nazimabad 22mm, University Road 19.5mm, Airport and Saadi Town 18mm, DHA 17.8mm, Sadar 15mm, Korangi 14 mm, PAF Base Masroor 11mm, Gulshan-e-Maymar 9mm and Keamari received 6.4mm of rain. The lowest rainfall (4mm) was recorded in Gulshan-e-Hadeed.
According to the Karachi chief meteorologist, the intensity of rain is likely to increase further after the weather system from central India enters the province. As a result, the city may witness heavy rains starting on Sunday. "Rains may continue till August 16 due to both systems," he added.
"The previous rain spells came from the Arabian Sea and the new system entered Sindh from the Bay of Bengal. These two monsoon systems entered Sindh in quick succession and technically there was not a 24-hour gap between them, so they will be considered as the fourth spell of monsoon," said Sarfaraz.
He further said that another monsoon system is expected to enter Sindh from the Bay of Bengal after August 16, which may cause heavy rains with thundershowers in various districts of rural Sindh, including Karachi, on August 17 and 18.
The ongoing monsoon spell may cause rains in parts of Sindh, including Karachi, till August 14. Incessant rains may also take place along Khuzdar, Lasbela, Hub and Kirthar Ranges, which may create pressure on Hub dam. Fishermen have been advised to be careful till August 14 in view of floods and expected high tide.
Wednesday's showers broke the heat wave in the city as the weather became pleasant. The maximum temperature was recorded at 35.5 while humidity was 92%.
Published in The Express Tribune, August 11th, 2022.
COMMENTS
Comments are moderated and generally will be posted if they are on-topic and not abusive.
For more information, please see our Comments FAQ