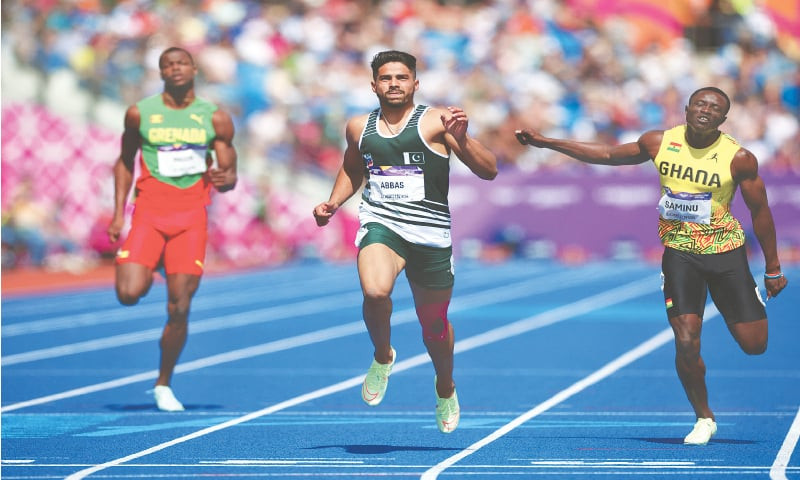 ---
KARACHI:
"I always wanted to run, I even ran away from my home, told my parents that I am leaving once I passed my 10th grade," Pakistan's fastest man Shajar Abbas has a calling and for now he wants to give his all at the Commonwealth Games as he qualified for the 200m semi-finals.
The 22-year-old is earnest in his approach to the sport, but he is also among the few in the world who truly knew from a young age what they wanted to do.
He is an underdog in Birmingham. While he finished the 100m event, albeit with a heartbreak on the 27th place in 10.38 seconds, he made sure that he wanted to do better in 200m, that is also his favourite race to run.
The Commonwealth Games are just Shajar's third international event. He has been a success as earlier on his debut he won the 200m gold medal with 20.91 seconds on the clock at the International Imam Reza Cup Tournament in Iran. He further proved his mettle with another gold medal in the 100m sprint that he finished in 10.38 seconds in Kazakhstan in June.
The performance at the Commonwealth Games has come as a surprise to Shajar, when he finished his heat on the top place with 20.87 seconds in 200m.
"I was really upset with my 100m result, but then to be in the semi-finals is something I have been aiming at, and I am excited for the 200m sprint, I am very happy with that result," Shajar told The Express Tribune before his event. "I will leave my all on the track, but I need lots of prayers from all the Pakistanis around the world really."
Shajar emerged as an exquisite talent for Pakistan in 2019 when he competed at the U18 and U20 National Championship where he finished first, clocking 21.5 seconds in the 200m in Lahore.
That was the beginning for him and within two years despite the global pandemic that left all the athletes locked in their homes and without competition, Shajar manged to create the national records and he is making his presence felt in the international arena.
But Shajar's journey in athletics is that of a hero who went against all the odds and made the brave decision of switching from cricket to athletics even though the latter is not looked upon with the same respect and attention.
From cricket to sprint
Shajar's aim had been to pursue sports for the love of it. The young boy from the village of Awanchak 39 in tehsil Pattoki of Kaur District was not afraid to speak of his passion for sports.
He explains that he was very interested in becoming a professional cricketer and while being at the school, he often told his parents that he wanted to go to a cricket academy.
"I never liked to study much but I knew I can play any sport really well, I was really good at cricket too," said Shajar. "I was a fast bowler and I only thought that this was going to get me out of school, I told my parents that they should send me to a cricket academy, but they did not listen, so when I finally passed my matric exam, I left my home quickly, came to my maternal grandmother's house in Lahore and that is where I found the freedom to be in sports," said Shajar.
Athletics became a way to be in the college
While Shajar's parents did not fully approve of his choice to only look at sports for his career, his older brother Samar abbas encouraged him to look for opportunities that can help him in life through sports.
He said that he only went to college so that he can play and find exemption from paying the college fee, and that he was seeking scholarship from Pakistan Police as well on sports.
"I can say that I got into athletics because of the college and my brother is in Pakistan Police now, so I hoped I could get into college and get them to see that my talent is good through sport. I went there so that they can give me a quota seat on cricket, I got the admission, I thought that was great, but then the coach saw me as a sprinter rather than a fast bowler, so coach Billa Shafaqat asked a friend Rana Sajjad Ahmed who took me in because he thought I was good," recalled Shajar.
He said that he still wanted to play cricket and often his coach would make him promise that he would refrain from doing so.
The decision to switch from cricket to athletics was a hard one, but Shajar found himself inspired by the former fastest man of Pakistan Gohar Shahbaz in the Wapda camp.
"My coach used to make me promise that I wouldn't play cricket," said Shajar. "He would do that to prevent me from getting injured while playing cricket, and I started to lose interest in it altogether. I only cared about running and athletics after a while.
"Now I don't even watch cricket, so that has been my journey in athletics. I want to make my country, my parents and my brother proud."
The fight is against oneself
Shajar believes that being a track athlete has been a challenge and while being in Birmingham, he can see the difference between all that is lacking in his own preparations but also in facilities and resources given to other athletes.
"Being an athlete is hard, even to decrease one second we have to work hard. It is like walking on a needle, against time and oneself. We are always fighting against our own bodies and that takes a lot of time and we need support, which in Pakistan at times we don't get," said Shajar, the example of which is him being in Commonwealth Games without his coach Ahmed.
Shajar has been feeling lost without his coach and said that he was upset after his 100m event at the Games.
"I am here without my coach and I am really feeling his absence here. At first, I was even confused what was happening. Coaches can really guide us in these key events, so I felt really lonely here and that did affect my performance in the previous event," said Shajar.
However, he is communicating with his coach daily at least thrice when he needs help in training, while he talks to his family to keep his spirits high during the event.
"We got here prior to my event and I trained on my own, alone for these few days. I really felt that my coach would have made a difference in training sessions before my events," said Shajar.
He also felt that the weather in England has been a bit challenging as he was training in Lahore before going for the event.
"The weather was a bit of a problem too, but I felt more adjusted later, in the 200m event, but that is something I have overcome now," said Shajar.
The Wapda athlete is also looking forward to the Islamic Solidarity Games where again he will be without his coach, but he wants to believe that he has learned from the Commonwealth Games experience.
"Maybe next time they will send coaches with us, I hope so, but I have a long way to go and that will only lead me to the Olympics," said Shajar.
He hopes to represent Pakistan at the Olympics like javelin thrower Arshad Nadeem and also follow in the footsteps of his favourite sprinter Usain Bolt.
But till then he is dedicated to learn more and improve on his technique and health.
"Running is important to me, and I will only be improving with every step I will take," he concluded as he left to prepare for his semifinal-1 at Commonwealth Games. The semi-finals are divided into two, with nine athletes competing for the spot in the final in each.
COMMENTS
Comments are moderated and generally will be posted if they are on-topic and not abusive.
For more information, please see our Comments FAQ