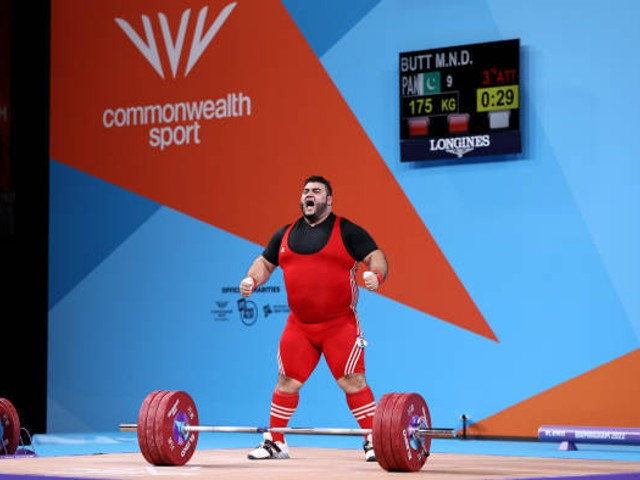 ---
Nooh Dastgir Butt brought home Pakistan's first gold in the +109kg weighlifting event at the 2022 Commonwealth Games later on Wednesday night.
Nooh earlier told The Express Tribune that he wanted to do one better than Bronze from his last outing at the Commonwealth Games. But he did delivered better than expected to lift 173kgs in snatch and 232kgs in clean and jerk, both Commonwealth Games records, to finish with a total of 405kgs.
"I have to win a medal, better than bronze, for my father and my country," Nooh had told The Express Tribune before his event. He feels that defending a bronze medal is not good enough anymore.
"My father was really upset with me the last time I won bronze, he didn't talk to me for a while, so my goal is to do better now. I just have one request. I want a lot of prayers from my fellow Pakistanis for this event."
Nooh brought a bronze medal home from 2018 Commonwealth Games in Gold Coast and before that he has been consistently winning silver and bronze medals at the Commonwealth Weightlifting Championships from 2015 till 2017, along with holding several national records, but now Nooh is mature and better at strategising.
Read more: Shah helps Pakistan open CWG account with bronze
He feels the year he took off has taught him a lot, mostly that winning is important for him and getting back on the feet is crucial even when the Pakistan Sports Board (PSB), the Pakistan Olympic Association (POA) and the government did not support him, despite being one of the best talents to come out of Pakistan.
He recalled that the rupture in his thigh muscle and recovery from it had been a battle for his entire family with no specialised doctors available in Pakistan for athletes and no support from the PSB or the POA.
"It was a dark time for me because not being able to compete was hard.
Also read: Pakistan's Nooh plans one better than bronze at CWG
"I competed in the national events and the South Asian Games in 2019, but I was with an injury that was escalating by the minute. I had to stop competing and training for a long time and we bore all the expenses of the treatment. My father and my mother took care of me and I can say that I am back because of them," said Nooh.
In the last national championship, he lifted 175kgs in snatch and 225kgs in clean and jerk.
He wanted to compete in the qualifying rounds for the Tokyo Olympics as well but he contracted Covid-19 during the pandemic, but he decided that he wanted to recover well in order to win better.
"I can say that the stakes for the Commonwealth Games are so high for me because I want all these years of hard work -- 12 to 14 years of my life -- that I have put in to at least show here. I want to win Olympics too. I would have if I was fit enough, but the bottom line is to win and make my country proud, to finally see better results," said Nooh.