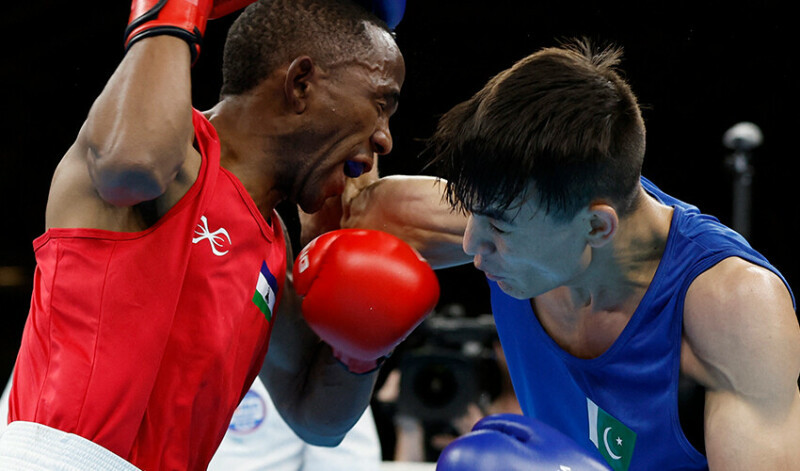 ---
KARACHI:
The most surprising performance for Pakistan came from young boxer Ilyas Hussain as he booked his place at the 2022 Commonwealth Games' featherweight quarter-finals with a win against Trinidad and Tobago's Anthony Shawn Joseph in Birmingham.
Ilyas defeated Jospeh 3-2.
The 22-year-old was also the first athlete to register a win for Pakistan at the Games when the athletes in boxing, swimming, cricket, hockey, badminton, gymnastics and all in squash, barring Nasir Iqbal failed to even overcome their first opponents in their respective competitions.
"I'm happy with my performance so far," Ilays told The Express Tribune after his bout. "This is my first international event and I feel honoured to be here with all of my senior colleagues. I really pushed hard for this fight against Joseph. I did my best to win."
Ilays defeated Lesotho's Moroke Mokhote on a knockout earlier, but he believes that the only thing pushing him to do better is his love for the country.
"I am doing my best, we are all doing our best and I can say that this is all for our country. I don't want anything for myself really. I just want to win for Pakistan," the boxer from Quetta reflected.
He belongs to the Hazara community of Quetta, which has been persecuted for their faith and ethnicity for decades and has produced talented boxers and karateka for Pakistan.
Ilays said that he lives in Hazara town and began to box in 2016 at a local club with coach Najeeb Faizi. Faizi supported him and mentored him, while it is his father who wanted him to take on the sport seriously.
"It has been a difficult journey. My father supported me, my coach as well and my elder brother also boxes well, but he is not in any department yet," said Ilyas, who plays for Army in the domestic events.
He was discovered two years ago when he competed in the national event for U22 boxers and then went on to win the national title twice in the featherweight category.
But being in Brimingham and seeing the international standards makes the young man feel a lot is missing at home when it comes to facilities and opportunities.
"The boxers over here are so good and so fit," Ilyas said with an innocence of a kid. "I have never seen facilities like this before. I can say that these boxers have so much more to train with. We don't even get 40 per cent of what these boxers in other countries have in training, facilities and diet."
Ilyas trains for at least six hours a day, he said, but after coming back from the Games, he wants to upgrade his training and put an extra effort.
Ilyas feels that his target is the Olympics in the long run and for now he will give his all to win a medal.
He added that so far, he is happy that he made his family proud with his performance so far at the Commonwealth Games.
"They are very happy and that makes so much difference. I'm happy that I made them proud," said Ilays, further revealing that his favourite boxer is Mexico's Canelo Alvarez. He added that he looks up to Army coach and former Pakistan boxer Ahmed Ali, who competed at the 2004 Olympics.
Ilyas feels his next match against Northern Ireland's Jude Gallagher will be tough and he wants to be sure that he gives his best counterattack, which he feels most confident with.
Coach Arshad Hussain, who was in the national camp and with the boxers in Birmingham believes that the next match is crucial but it is possible for Ilyas to win.
"He can do it. I feel his morale is very high and he is in good place mentally and physically," said Arshad.
Meanwhile, the other Pakistani coach who was at the camp as well, but was not chosen to go to Birmingham Tariq Siddique said that Ilyas has done a very good job so far.
"The competition is tough. When we look at the Indian boxers, they have trained abroad, but our boxers have not. There is a huge difference, however, Ilyas has been very spirited in his two matches," said Siddique, who was also the coach of Pakistan's first World Boxing Council champion Muhammad Waseem.
"The next match will be tough for him and he should implement good strategy to win those three rounds."
COMMENTS
Comments are moderated and generally will be posted if they are on-topic and not abusive.
For more information, please see our Comments FAQ