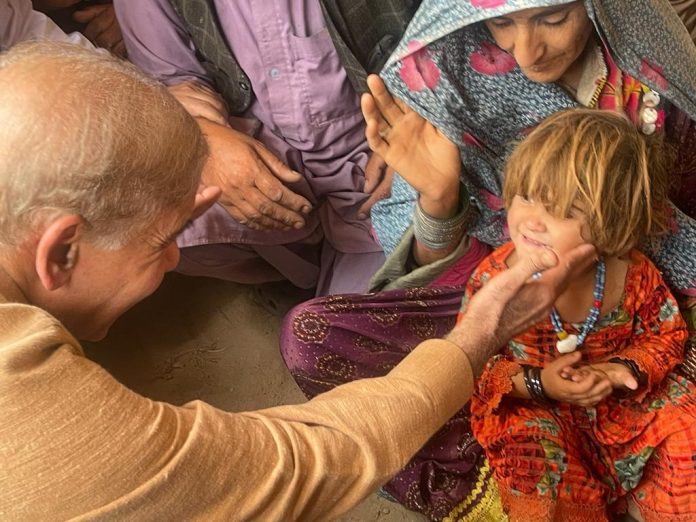 ---
SWABI/ QUETTA:
The monsoon force in most parts of Balochistan and Khyber Pakhtunkhwa (K-P) did not lose its knockout punch on Monday as floods continued their assault unabated, leaving many dead while battering homes and toppling trees.
According to the Provincial Disaster Management Authority (PDMA), nine more people died in rain-related incidents in Balochistan over the past 24 hours, taking the death toll to 136, while 70 others have been injured since June 1.
The authority said several roads and bridges were washed away by floods. It said that a bridge connecting Lasbela and Sindh, which was damaged seven days ago, had not yet been repaired.
Roads linking Quetta to Ziarat, Chaman and Sibi had also been affected by rains. Around 13,535 houses have been destroyed in the province, out of which 10,129 were partially damaged and 3,406 were completely destroyed.
The authority said relief activities were under way in the province.
Meanwhile, the heavy downpour has wreaked havoc on many parts of K-P— including Swabi and Mardan – and has flooded houses and markets, blowing off roofs and forcing many out of their homes.
The rainfall which began on Saturday and continued into Sunday morning overwhelmed rivers and sewer systems, submerging low-lying areas and blocking main routes. At least four persons, including three women, were left dead in rain-related incidents.
Similarly, reports said at least three people were killed and four injured when a house roof caved in the Madde Baba area of Mardan district on Monday. The injured have been shifted to tehsil headquarters hospital Takht-Bhai.
PM seeks action against failure in relief efforts
Meanwhile, Prime Minister Shehbaz Sharif reached Quetta on a day-long visit on Monday to oversee relief operations in flood-stricken areas of Balochistan and expressed serious concerns over the non-availability of food and water in the camp in Balochistan's Qila Saifullah district.
Read: PMD warns of 'above-normal' rainfall this month
He sought action against officials for their failure to provide people with food and water.
This was his second visit in the last three days to meet the flood-ravaged people and review the pace of rescue and relief operations in the province.
"This pained me a lot, why food is not provided to them", the dismayed premier chided the officials present on the occasion.
The premier said immediate action should be taken against the district administrations concerned, adding that Balochistan Chief Minister Abdul Qudoos Bizenjo had assured him that action would be initiated against those responsible.
The prime minister said he had issued directives to ensure food was provided at relief camps from today.
He asked the chief minister to initiate action against the officers responsible for the negligence.
CM Bizenjo immediately directed the provincial chief secretary to suspend the officials concerned if the food was not being provided at the relief camps.
"We were told people have been given one month's ration," he said, instructing the chief secretary to probe the matter and suspend the relevant deputy commissioner (DC), tehsildar, PDMA in-charge and relevant team if the food was not available.
"They are all suspended and action will be taken against them," he assured the prime minister.
PM Shehbaz also visited Chaman and addressed the tribal elite and flood-affected people. He said the National Highway Authority (NHA) would ensure the reopening of the highways very soon.
He was later given a detailed briefing by the NDMA after landing in Quetta, following which he issued directives for the immediate disbursement of financial assistance to the families of those who lost their lives due to rains and floods, according to state-run Radio Pakistan.
Date crops in Makran belt destroyed
Meanwhile, the rainwater has also inundated date palm fields on a broad scale, spelling disaster for the crop in Panjgur, Turbat and other parts of the Makran belt.
"We have suffered huge financial losses because of rains and floods", Muhammad Jan, a dates farmer and dealer told The Express Tribune.
The dates season was about to start when floods and heavy rainfall started in the area. "There were good dates for production this year but floods destroyed everything," Mr Jan said.
As per the statistics shared by the PDMA, floods have destroyed standing crops on more than 200,000 acres of land in various parts of Balochistan. The financial losses of dates farmers in Makran are estimated at around Rs2 billion, Shabir Ahmed Mengal, the commissioner of Makran Division told The Express Tribune.
The provincial government has ordered all deputy commissioners of the flood-hit districts to assess the damages and submit a comprehensive report to the government.
The floods have also destroyed grape orchards in Pishin, Killa Abdullah and other districts of the province.
COMMENTS
Comments are moderated and generally will be posted if they are on-topic and not abusive.
For more information, please see our Comments FAQ