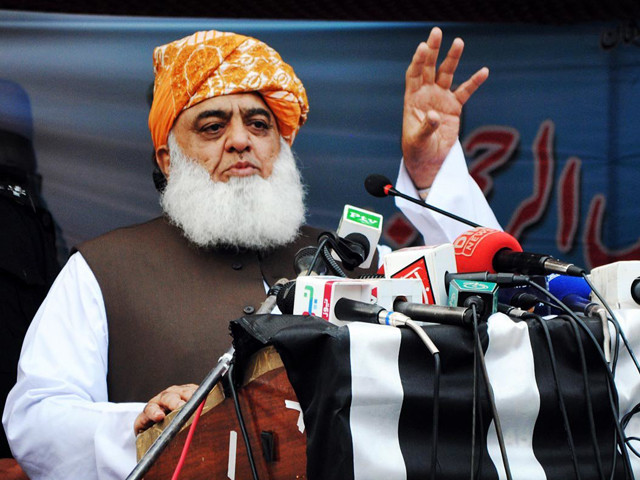 ---
Jamiat Ulema-e-Islam (JUI-F) chief Maulana Fazlur Rehman has urged the country's strong military establishment to remain "neutral" during political battle between the ruling alliance and the Imran Khan-led PTI.
"We have to fight a constitutional battle that's why we are demanding establishment to remain neutral… all institutions should work together to steer the country of crisis," he said while addressing the party workers in Peshawar on Saturday.
Fazl, whose party is part of the coalition government led by PML-N, said respecting judiciary is incumbent upon everyone and added that he did not have any grudge against any institution but he can't say this for "individuals".
"If an individual becomes controversial then it will have far-reaching consequences for the country. People inside the institutions made false cases against us," he added.
Fazl also warned adversaries against maligning him through false cases, saying he will give "befitting response".
Speaking about the foreign funding case, Fazl said former prime minister Imran Khan-led PTI rose to power under "international conspiracy" to destroy the cultural values of the country.
"We know the forces behind Imran Khan. Removing him from power is not enough we have to erase him [Imran Khan]," he remarked.
Also read: PDM to launch campaign against SC decision
Referring to the Financial Times (FT) report, he claimed that PTI received illegal funds from Israel and India. "15 people in [Former PM] Imran Khan's cabinet were foreigners."
According to the report, Arif Naqvi, the founder of the Dubai-based Abraaj Group, held a cricket tournament at Wootton Place, with guests asked to pay between £2,000 and £2,500 each. The money, it added, was said to go to unspecified "philanthropic causes".
Although the fees were paid to Wootton Cricket Ltd, a Cayman Islands-incorporated company owned by the Abraaj founder, it was used to fund the Pakistan Tehreek-e-Insaf, with £2 million paid by Sheikh Nahyan bin Mubarak al-Nahyan, a member of Abu Dhabi's royal family, the report added.
Without naming anyone, Fazl apparently asked the Election Commission of Pakistan (ECP) to announce the verdict in PTI's prohibited funding case "without any fear".
COMMENTS
Comments are moderated and generally will be posted if they are on-topic and not abusive.
For more information, please see our Comments FAQ