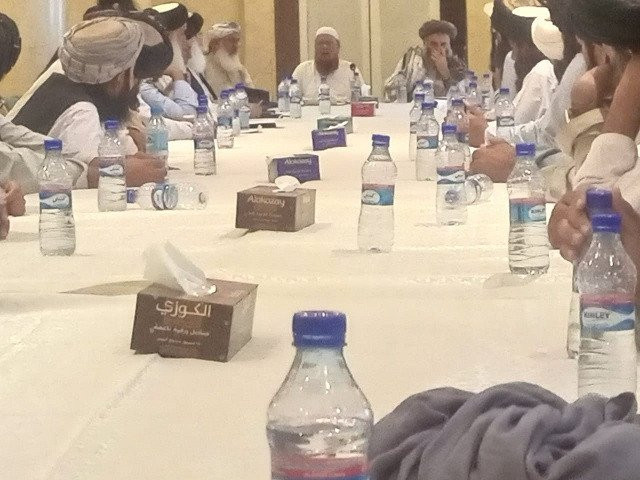 ---
ISLAMABAD:
A delegation of Pakistani religious scholars, headed by Mufti Mohammad Taqi Usmani, on Wednesday met acting Afghan prime minister Mullah Muhammad Hassan Akhund at the Arg Palace.
Mufti Usmani conveyed to the Afghan premier that "Afghanistan and Pakistan are two Islamic countries and called for solidarity and good relations between the two neighbours.
Welcoming the delegation, Mullah Akhund thanked them for their views on Afghanistan. He said that the occupation of the US had ended and the time for reconstruction of Afghanistan and dealing with the issues of the communities had begun.
The Afghan premier added, "We want good diplomatic ties with all countries around the world, especially with our neighbouring countries."
According to Akhund, "Afghanistan is the common home for every Afghan and we are working together to build it."
Also read: Pakistani Ulema fail to soften TTP in Kabul meetings
He said that scholars ruling the country were aware of the value and necessity of science, saying work was underway to strengthen the country's education sector.
He reiterated that the Islamic Emirate of Afghanistan calls for solidarity of all Afghans by announcing a general amnesty for them.
The Afghan premier informed that a commission had been formed to contact Afghan personalities inviting them home and as a result, many returned so far.
Earlier, the delegation met the representatives of the outlawed Tehreek-e-Taliban Pakistan (TTP) to soften their stance in peace talks with Pakistani negotiators.
However, the group refused to retreat from their demand of a reversal of Fata's merger, in response to the demand that they drop the policy of violence against Pakistan.
COMMENTS
Comments are moderated and generally will be posted if they are on-topic and not abusive.
For more information, please see our Comments FAQ