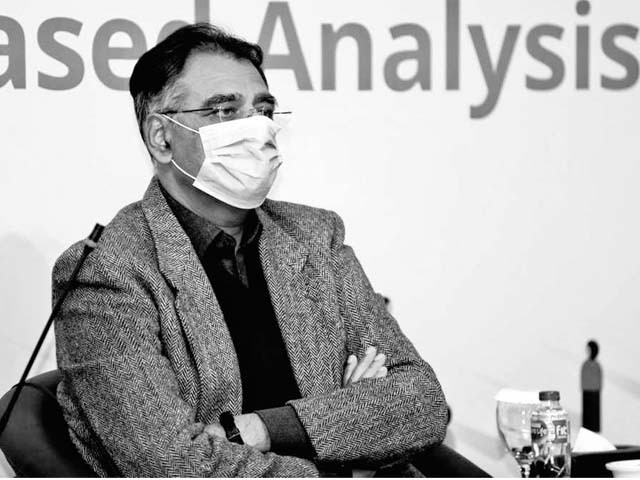 ---
ISLAMABAD:
Senior Pakistan Tehreek-e-Insaf (PTI) leader Asad Umar said on Monday the rejection of coalition government's plea for the formation of a full court by the Supreme Court proved once against that Hamza Shahbaz did no longer have the right to continue as the Punjab Chief Minister.
Talking to journalists after the apex court rejected the government petition seeking formation of a full court to hear the plea filed by Chaudhry Pervaiz Elahi against the election of Hamza Shehbaz as the chief minister, Umar said that the PTI always believed in the law and the Constitution.
"It has been proved once again today" that Hamza had no right to sit on the Punjab chief minister's chair, Umar, the former planning minister, told reporters. "PTI believes in the law and Constitution. We will not attack courts like PML-N if a verdict doesn't suit us."
Umar said that the court had given the government a third chance to present arguments. "We thank the court for giving them ample time to present logical arguments, but they failed to do so," Umar said, adding: "Forming the full court bench is strictly the chief justice's prerogative."
Earlier, speaking outside the court during a 15-minute break in the court, PTI leader Fawad Chaudhry said the bench conducted the case proceedings without any pressure despite "coalition parties' attempt to influence the judges".
READ PTI lauds SC judges for tolerating 'unruly behaviour' of ruling coalition
"The proceedings were held in a very positive environment," the former information minister said, adding that empowering heads of parliamentary parties was a "leap forward" in strengthening democracy and ending the "dictatorship" within the parties.
Meanwhile, before the Supreme Court's ruling, former prime minister and PTI Chairman Imran Khan shared a video on his Twitter handle about the 1997 attack on Supreme Court by the PML-N supporters.
On November 30, 1997, then prime minister Nawaz Sharif had appeared before the top court along with party workers, members, chief ministers, and others, after being summoned by then chief justice Sajjad Ali Shah over his remarks about turncoats.
Police eventually managed to restore normalcy using batons and tear gas both inside and outside the courthouse. "This video says it all about the Sharif mafia. Those who can't be bribed must then be eliminated," Imran said along with a BBC report on the infamous incident.
COMMENTS
Comments are moderated and generally will be posted if they are on-topic and not abusive.
For more information, please see our Comments FAQ