 ---
With the hype surrounding Ranbir Kapoor's return to the big screen after a four-year hiatus, fans were expecting a magnanimous response to his latest offering, Shamshera. The Karan Malhotra directorial starred Ranbir in a double role, Shamshera and Balli, with Vaani Kapoor as his love interest and Sanjay Dutt as the antagonist.
However, seems like even two Ranbirs couldn't save the train wreck that this period drama. According to the Indian media, the cinema halls rarely saw an audience coming in to see the Tamasha star's film. As per Free Press Journal, Shamshera 'seems to have failed to impress the audience.'
The report added, "Even after weeks of rigorous promotions, the film could not live up to its hype and witnessed a sublime start of INR100 million." However, according to a report in Zoom, several shows of the film were cancelled due to the absence of audiences at the theatres.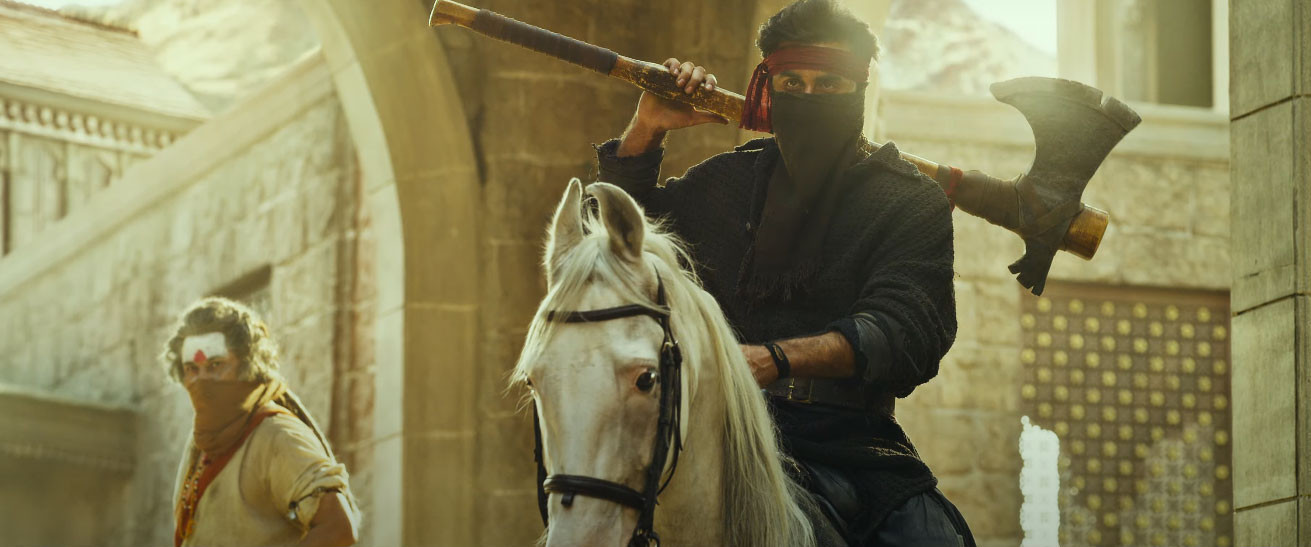 Popular, Indian trade analyst Komal Nahta too tweeted, "Another big film but the same story continues! Shows of Shamshera in the morning and noon, afternoon at some cinemas cancelled due to absence of an audience."
The film is said to be made on a massive budget of INR1.5 billion. Shamshera embarked on its journey with an opening of INR100.25 million on opening day. "The opening is way lower than what the industry expected out of it. While the film was expected to take off during the weekend, looks like the collection remained low despite good word of mouth. In two days, Ranbir's film managed to earn a mere INR200 million. According to early estimates, the film's Sunday earnings have also not been great," reported India Today.
'A Hinduphobic disaster'
Fans took to Twitter and shared their thoughts about Shamshera. Some called out 'Hinduphobia' in the film. "Shamshera, a movie where the villain Sanjay Dutt wears a Tripund Tilak and the hero, Ranbir Kapoor, prides himself on being "free of dharma." Same old Hinduphobia. Same old nepotism. Same old Bollywood," a user penned.
One more user added, "Another Friday, another Bollywood film opens to empty halls and cancelled shows. YRF's Shamshera has got a very poor opening at India BO; hardly 10-12% occupancy. PR obviously will push fake figures and stories, but the public's message to Bollywood is loud and clear."
Another tweep shared, "Shamshera is underperforming across the country. If you keep hurting Hindus, you'll have to face this Economic Boycott."
One more shared, "YRF's Shamshera is now one of the biggest BO disasters, along with all major Bollywood releases post-2020. With 40-50% of shows cancelled, it's brutally dumped by the audience on its first Monday itself. Tight slap on the ugly faces of Bollywood coke-egos!"
Another added, "It looks like Prabhas and SS Rajamouli melted the brains of Bollywood producers. So many have tried and failed badly to deliver an action film in a historical setting since Baahubali broke records. Add Shamshera to that long list of historical disasters."
A user quipped, "Shamshera movie [was] so bad we literally left before intermission and ate the popcorn outside."
One user defended the film and shared, "Yes, Shamshera isn't a great film but it isn't 'unbearable' as the critics have written. If this was a South Indian film, these same critics would have lauded it and called it a 'massy entertainer'."
Another user shared, "Shamshera is not a great movie but does not deserve this treatment from the audience. It was an attempt from Bollywood to make something good. They missed the mark by a low margin. But makers deserve some praise."
About Shamshera
Produced by Aditya Chopra, the film sets in the backdrop of the 1800s in the fictitious city of Kaza and tells the tale of a dacoit turned tribe leader. Shamshera sees Ranbir in his first-ever double role where he's playing a father-son duo, Shamshera and Balli.
The impressive trailer saw a very menacing-looking Sanjay Dutt as the officer Shudh Singh, who has been brought in to keep a rein on Balli. Vaani Kapoor plays an exotic dancer, who advises Balli to put a stop to his worrying antics. Shamshera was released in the Indian cinemas last week.
Have something to add to the story? Share it in the comments below.
COMMENTS
Comments are moderated and generally will be posted if they are on-topic and not abusive.
For more information, please see our Comments FAQ