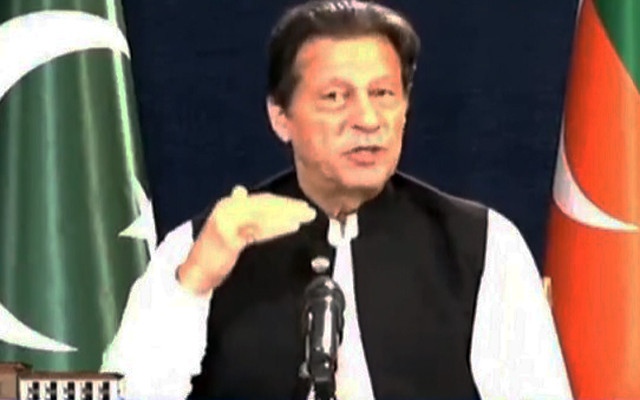 ---
ISLAMABAD:
A day after securing a resounding victory in Punjab by-polls, former prime minister and Pakistan Tehreek-e-Insaf (PTI) Chairman Imran Khan on Monday reiterated his demand for holding fresh elections in the country under a new chief election commissioner (CEC).
Addressing the nation after chairing a meeting of the PTI Core Committee, the former prime minister emphasised that the only way to end the current political crisis in the country was to hold immediate clean and transparent elections.
"There is only one way [to rid the country of political instability]… free and fair election. When they were removing me, I had announced general elections but courts overturned my decision. I still believe it was the right call," Imran said.
Sunday's by-elections were held after 20 PTI lawmakers were de-seated by the Election Commission of Pakistan (ECP) for voting against the party line in the election of Punjab chief minister in April.
However, defying all odds, the PTI clinched 15 provincial assembly seats out of the 20 up for grabs, dealing a stunning blow to the 13-party alliance led by the Pakistan Muslim League-Nawaz (PML-N) on its home turf. The ruling PML-N could only bag four seats.
Imran said that the PTI victory was "very auspicious time for the country", as the countrymen had understood the ideology. He thanked the voters – particularly the youth and women of Punjab – for coming out in large numbers to vote for his party.
After the by-election victory, the PTI chairman reiterated, free and transparent elections were the only solution to come out of the myriad of crises facing the country. "The way yesterday's election was conducted, crisis will even deepen," he said.
Punjab government used all tactics and despite Supreme Court's orders, they used state machinery. Police threatened people. Police became a jiyala (stalwart) of PML-N. It is contempt of SC's orders."
The former prime minister continued his trenchant criticism of the CEC Sikander Sultan Raja, calling him a "dishonest" person. He asked the CEC to resign, saying that under this ECP, free and fair election could not take place.
"The country's biggest party [the PTI] does not trust it [the ECP]. I ask the CEC to resign. We have no confidence in you. You're a biased person and connected with a party," the PTI chairman charged.
Imran, who was removed from power in April through a no-confidence motion, said that an imported government was imposed on the country under foreign conspiracy. "They [the rulers] have come to abolish the corruption cases against them," he added.
Read ECP rejects Imran's allegations of rigging attempts to favour PML-N
Commenting on the performance of his government, Imran said that during the last two years, "we had the best growth rate, and all indicators were pointing at the right direction… despite the coronavirus pandemic".
He said that the PTI government had reduced unemployment, generated wealth, introduced health card, while the farmers made record profits and the country received record remittances. "We were taking Pakistan towards a welfare state," he said.
"At such a time, our government was overthrown via a foreign conspiracy. Shaukat Tareen and I had forewarned that if our government was overthrown, the economic crisis will be unmanageable," the former prime minister continued.
"Today, Pakistan is fourth country, which might default, like Sri Lanka. The Moody's has downgraded our rating to negative. Our foreign currency reserves have depreciated … we will never get out of this financial crisis without political stability," he maintained.
"We should only seek fresh elections. We can only take our country towards progress through political stability. We never focused on increasing exports. Overseas Pakistanis are our big asset. They will invest if we get political stability and for that we need free and fair elections."
Reflecting on the by-elections victory, Imran said that no nation could progress without a philosophy. "When this imported government was imposed upon us via a foreign conspiracy, people started asking questions… but, now we're on our way to become a nation," he said.
"I thank Allah for the last night's win. We should all be proud of ourselves…. the way people especially youth and women came out to vote, this is Naya Pakistan. This is a very auspicious time for the country," he said.
COMMENTS
Comments are moderated and generally will be posted if they are on-topic and not abusive.
For more information, please see our Comments FAQ