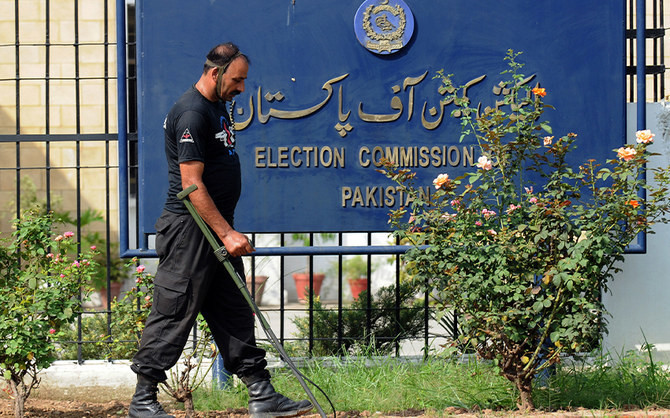 ---
The Election Commission of Pakistan (ECP) has rejected former prime minister and PTI Chairman Imran Khan's allegations that the electoral watchdog chief Sikandar Sultan Raja "tried to rig" Sunday's Punjab by-polls to favour the ruling PML-N.
"All these allegations have nothing to do with reality. The election commission will continue to perform its duties according to the Constitution and law," the ECP spokesperson said in a statement issued minutes after the PTI chairman's address On Monday.
18 جولائی 2022
پریس ریلیز

الیکشن کمیشن آف پاکستان پی ٹی آئی کے چیئرمین عمران خان کےآج لگائے گئے تمام الزامات کو یکسر مسترد کرتا ھے۔ان تمام الزامات کا حقیقت سے کوئی تعلق نہیں۔ الیکشن کمیشن آئین اور قانون کے مطابق اپنے فرائض سرانجام دیتا رہے گا۔

ترجمان الیکشن کمیشن. #ECP

— Election Commission of Pakistan (OFFICIAL) (@ECP_Pakistan) July 18, 2022
In his victory speech earlier today, Imran called the chief election commissioner "dishonest" and asked him to resign, saying free and fair elections cannot take place in the country under his supervision.
"Under this ECP, free and fair election cannot take place. The country's biggest party does not trust it. I ask CEC to resign. We have no confidence in you. You're a biased person and connected with a party," he alleged.
Also read: Rejuvenated Imran demands snap polls after emphatic Punjab win
The PTI chief reiterated that free and transparent elections were the only solution to come out of crises. "The way yesterday's election was conducted, crisis will even deepen. Punjab government used all tactics and despite Supreme Court's orders, they used state machinery. Police threatened people. Police became a jiyala (stalwart) of PML-N. It is contempt of SC's orders."
"Four million people were termed dead and they were taken out of the electoral system. CEC rejected our pleas, but thankfully the apex court overruled," he added.
"We do not trust this CEC. We all know money is used in secret ballot and that's why we wanted an open ballot… [Yousaf Raza] Gilani's son was caught red-handed in the past."
This is not the first time Imran has levelled allegations against the ECP and accused CEC Sikandar Sultan Raja of being in cahoots with the PML-N.
COMMENTS
Comments are moderated and generally will be posted if they are on-topic and not abusive.
For more information, please see our Comments FAQ