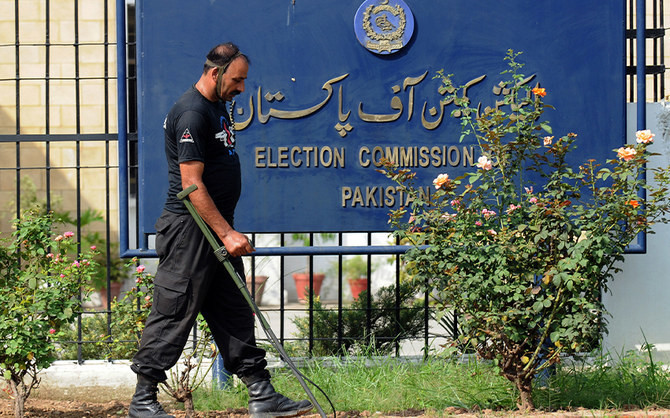 ---
ISLAMABAD:
The Election Commission of Pakistan (ECP) on Tuesday finally completed the hearing of the foreign funding case against the PTI after long eight years and reserved its verdict.
The case was heard over 95 times in the commission, while its scrutiny committee held 96 sessions.
During the hearing, petitioner Akbar S Babar, a founding but estranged leader of the PTI, said he was grateful that the commission had given him the opportunity to view all the records.
"This is the best opportunity to hold political parties accountable," he added.
On the occasion, Chief Election Commissioner (CEC) Sikandar Sultan Raja said democracy was most important for the country and it needed to be strengthened.
He added that it was necessary to restore the confidence of the voters and the ECP would ensure that everyone received justice.
The CEC expressed his gratitude to both the parties, saying that he had learned much from them.
"Soon the cases of other [political] parties will also be finalised. We will ensure that no one is discriminated against."
Speaking to reporters after the hearing, the petitioner said they had to make the PTI a role model. "We didn't form a party to make Imran Khan the prime minister," he added.
Read Foreign funding case: PTI says ECP scrutiny panel 'ignored' its audits
He further said the commission would not miss this historic opportunity and should make its decision without any fear.
"The decision of the ECP will change politics in the country."
Talking to the media, PTI Information Secretary Farrukh Habib said the decision of all political parties should be made by the ECP simultaneously.
"It is the responsibility of the ECP to strike a balance."
Farrukh further said the decision should be taken on merit although the PTI had its reservations.
"We will see what the decision is in due course."
Babar had filed the case on November 14, 2014, after he developed differences with the PTI chief over internal corruption and abuse of laws governing political funding.
The petitioner alleged that nearly $3 million in illegal foreign funds were collected through two offshore companies, registered under the prime minister's signature, and that the money was sent through illegal 'hundi' channels from the Middle East to accounts of PTI employees.
He also alleged that the foreign accounts used to collect funds were concealed from the annual audit reports submitted to the ECP.
A special committee was formed in March 2018 to investigate the matter. Two officers from the director-general law wing and auditor general office of ECP were included in the committee.
COMMENTS
Comments are moderated and generally will be posted if they are on-topic and not abusive.
For more information, please see our Comments FAQ