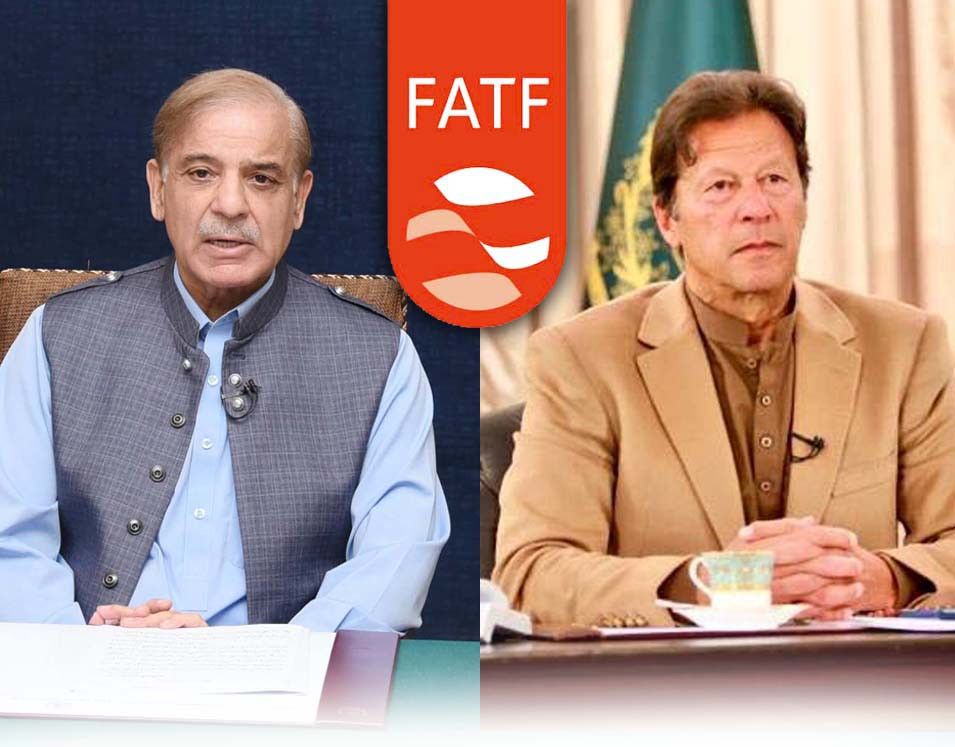 ---
"Victory has a thousand fathers ..."
For me, the practical manifestation of this John F Kennedy quote was never more clear than this past Friday. "FATF" had been the buzzword on Twitter since morning. Pakistan's anticipated exit from the "grey list" had triggered a vociferous debate on who deserves the credit. The ruling coalition and its predecessor, the PTI, fought no-holds-barred verbal duels on social media (on conventional media, their spats were thankfully more restrained).
The Financial Action Task Force (FATF) places those countries on its infamous 'grey list' that do not take full measures to combat money laundering and terror financing but have formally committed to doing so.
Read more: Pakistan all but exits grey list
Contrary to frenzied anticipations, FATF didn't take Pakistan off its "grey-list" on Friday, but it did acknowledge full compliance of an action plan assigned to Islamabad to prove its global commitment to fighting financial crimes. An "on-site" visit by a FATF inspection team would verify the full compliance – which may not be possible before October. If verification is successful, Pakistan would formally come off the "grey list" – possibly in February next year. It's no mean feat. It has put Pakistan on the path to exiting the "grey list" after 48 grueling months. And it's rightly being celebrated as a "remarkable achievement" and a "monumental success".
Prime Minister Shehbaz Sharif sought to claim credit for his own government [you've to admire the chutzpah]. First, he rang up his foreign minister, Bilawal Bhutto-Zardari, to "congratulate" him. "The entire team of the foreign minister deserves kudos", he told Bilawal. The young foreign minister couldn't resist the offer to claim the first feather in his cap. "I will keep striving to steer Pakistan out of all predicaments," he reciprocated. Sharjeel Inam Memon, the Sindh information minister who is more vocal on national issues, was also quick to credit Bilawal who, according to him, had "raised the FATF issue on all platforms". But I think Bilawal's deputy, Hina Rabbani Khar, knows it's unfair to claim credit for something they have little share in. "Our success is the result of four years of challenging journey," she wrote on Twitter. This, obviously, means she was talking about the work done by the previous government. However, she said it shouldn't matter who claims the credit. What should matter is: Pakistan is out of the woods.
I'm sure PM Sharif also knows that he is not giving the credit where credit is due.
Also read Pakistan pins hopes on 'onsite visit' to exit FATF 'grey list'
He may have willfully ignored them, but Imran Khan told his former cabinet members that the "whole country is proud of you" for the FATF victory. "Hammad Azhar [senior minister in Khan's cabinet], members of his FATF coordination committee & officers who worked on this task performed exceptionally well. The whole country is proud of you," Khan wrote in a Twitter thread while listing his government's tireless efforts to save Pakistan from the FATF "black list".
Hours after Khan's tweets, the military spokesperson also weighed in. Maj Gen Babar Iftikhar, while quoting COAS Gen Qamar Javed Bajwa, called it "a monumental effort paving way for Pakistan's whitelisting". And he credited a team at the military headquarters for making it possible. "A core cell at the GHQ steered the national effort and civil-military team which synergised implementation of [FATF] action plan, made it possible, making Pakistan proud," the DG ISPR quoted Gen Qamar as saying. On Saturday, Prime Minister Sharif also called Gen Bajwa to acknowledge the efforts of the "core cell".
To quickly recap, Pakistan has a chequered history with FATF. And its "grey-list" horrors aren't new. However, the latest "grey-listing" happened in Feb 2018 when the PML-N was in power. India was lobbying hard to have Pakistan "black-listed" – something the policymakers in Islamabad have always dreaded. In June, Pakistan was given a 27-point challenging action plan, followed by another seven-point action plan in 2021. "We not only averted blacklisting, but also completed 32 out of 34 action items. We submitted a compliance report on remaining two items in April based on which FATF [has] now declared Pakistan's Action Plan as completed," Khan wrote in his thread of tweets.
Truth be told, the PTI government had done most of the work for Pakistan's removal from the "grey list". At the same time, it is also a fact that the PTI government would never have been able to accomplish this gigantic task without the help and cooperation of the state institutions.
Having said that, it would have been better if Khan had set aside his tiff with the military and also acknowledged the "GHQ core cell" for synergising his government-led national effort. The military, I reckon, realises that the challenging task would not have been possible without political will on the part of Khan's government. PM Shehbaz "telephoned all the persons relevant to FATF success," according to his office. It would have been a great goodwill gesture if he had shunned his political rivalry for a moment and also called up the "most relevant person" to this success [read: his predecessor] to acknowledge his efforts too. This may not have ended entrenched political hostility, but I'm sure this would have helped reduce growing bitterness in our politics.
COMMENTS
Comments are moderated and generally will be posted if they are on-topic and not abusive.
For more information, please see our Comments FAQ