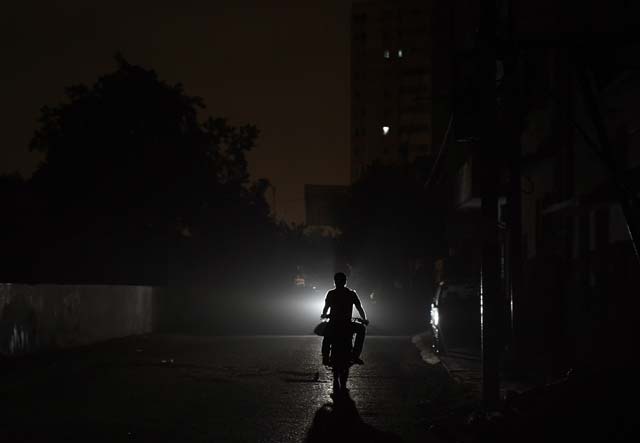 ---
Pakistan's power woes that are plunging the country into the darkness with planned load-shedding of more than 12 hours stem from Europe's decision to quit buying Russian fuel.
According to Bloomberg, the world's fifth-most populous country invested in LNG and signed long-term contracts with Italian and Qatari suppliers in a bid to protect itself from violent price hikes.
It added that Pakistan has been pushed into a corner after some suppliers defaulted but continue to sell to the European market.
The government paid nearly $100 million to procure a single LNG shipment from the spot market to avoid blackouts during Eid.
It was highlighted that the country's LNG costs could go above $5 billion by the fiscal year-end in July.
The International Monetary Fund's demand of cutting fuel and electricity subsidies to avail a bailout has been hanging like an axe over the country.
Also read: Load-shedding continues as power shortfall hits 5,538MW
Prompted to take energy-saving measures in face of the looming crisis, government offices were ordered back to function five days a week.
Prime Minister Shehbaz Sharif, the report said, had ordered his government to resume purchasing expensive overseas natural gas shipments and earlier this month he had warned of not having enough money to continue buying gas from overseas.
The report predicts that the problem will persist beyond blackouts considering the government's decision to redirect existing natural gas supplies to power plants which will affect fertiliser makers and could threaten the next harvest.
Telecommunication companies, it added, are running out of fuel too after extensive use of backup generators by cellphone towers to sustain service through the blackouts.
LNG cost has surged by more than 1,000% in the last two years. Europe's biggest supplier of natural gas is Russia and the supply disruptions threats spiked spot rates to a record in March.
Also read: Up to three hours of load-shedding in 'low loss areas' from today: K-Electric
Europe's LNG imports are up 50% so far this year. "Europe is sucking LNG" from the world, said Steve Hill, executive vice president at Shell Plc. "But that means less LNG will go to developing markets."
Lower prices enabled poorer countries to finally consider purchasing the fuel. More than a dozen companies bid for business when Pakistan issued a tender for long-term LNG supplies.
"In 2017, Pakistan selected Italy's Eni SpA and trading house Gunvor Group Ltd to supply the country with LNG into the next decade," the report said, adding that when prices were lower, a similar contract was signed with Qatar.
More than a dozen shipments scheduled for delivery from October 2021 through June 2022 have been cancelled by the suppliers.
Bruce Robertson, an analyst at the Institute for Energy Economics and Financial Analysis said such defaults are almost unheard of in the LNG industry.
In a statement, Eni and Gunvor said they had to cancel because they're facing their own shortages and don't have the LNG to send to Pakistan.
Eni and Gunvor have not even bought a shipment on the spot market to replace the deliveries.
Bloomberg said Gunvor declined to comment. However, Eni, in an emailed statement, said their supplier didn't meet the required demand.
Also read: Power load-shedding to be reduced to 3.5 hours from tomorrow: Abbasi
Valery Chow, an analyst at Wood Mackenzie Ltd said, "It's very rare for LNG suppliers to renege on long-term contracts beyond force majeure events."
Contracts signed by Pakistan called for a 30% penalty for cancellation, most likely in exchange for lower prices overall.
"An LNG shipment for May delivery to Pakistan via a long-term contract would cost $12 per million British thermal units," according to Bloomberg calculations.
Pakistan has been pushed into the worst negotiating position. PM Shehbaz ordered the state-owned importer to procure fuel at any cost apart from trying to negotiate new long-term LNG purchase agreements.
Experts say the terms will be worse than they were six years ago. "The government will go for the most favourable deal," the Ministry of Energy said in a statement.
"The country is closing in on a high risk of default," the Institute for Energy Economics and Financial Analysis said.
Moody also downgraded its outlook on Pakistan to negative from stable.
The country's energy crisis has worsened because of reliance on LNG and the default committed by suppliers. Pakistan has been exploring long-term contracts with Russian LNG suppliers.
COMMENTS
Comments are moderated and generally will be posted if they are on-topic and not abusive.
For more information, please see our Comments FAQ