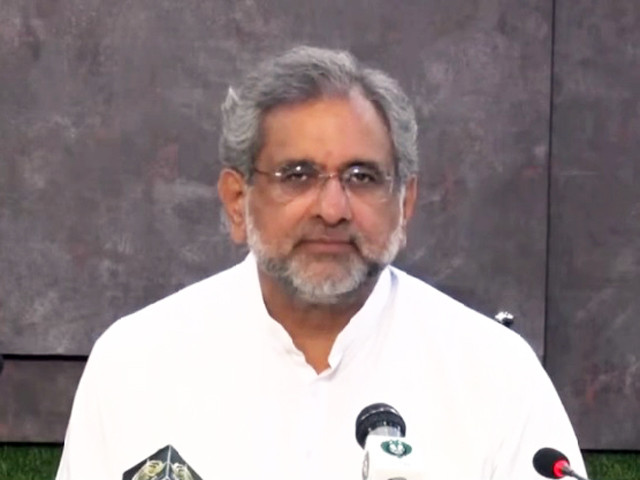 ---
Amid reports of prolonged power outages in the country, former prime minister and Pakistan Muslim League-Nawaz (PML-N) leader Shahid Khaqan Abbasi on Monday said that the power load-shedding would be reduced to 3.5 hours from Tuesday (tomorrow).
"After June 30, there will be no load-shedding of more than two hours. Today, we need to produce 25,000 megawatts of electricity but we're only producing 21,000MW," he said while addressing a news conference alongside other PML-N leaders in Islamabad.
Abbasi said that from Tuesday, there will only be 3.5 hours of power outages in the country and from June 16, the period would be reduced to three hours.
Read more: Heads to roll if power crisis not rein in: PM
He hoped that the period of load-shedding would be further reduced in July, adding that the government had increased the generation of power in the country as only 17,000 to 18,000MW of energy was being produced at the time the government took charge.
Lamenting over the 'incompetence' of PTI government, the former prime minister said that the efficiency of some power plants in the country was extremely low and should have been replaced.
"Some of them produce electricity at Rs60 per unit. Not a single megawatt of energy was inducted into the national grid during the PTI government. There is a long story of negligence," he added.
Answering a question, he said the government was not receiving any tax on petrol and it is being sold at the purchasing rate. "No country in the world can sustain providing subsidies. We're hopeful the rates in international markets will reduce and it will impact the local market too," he added.
Commenting on a statement by PTI MNA Attaullah that he will commit a 'suicide attack' if anything happened to former prime minister Imran Khan, Abbasi said that PTI has already committed 'suicide attack' on this country.
"The way they broke the IMF agreement is an example... they erected many hurdles for us... now their members are talking about suicide attacks," he added.
He further said that the LNG contracts made during the tenure of the PML-N government were saving the country Rs140 billion.
COMMENTS
Comments are moderated and generally will be posted if they are on-topic and not abusive.
For more information, please see our Comments FAQ