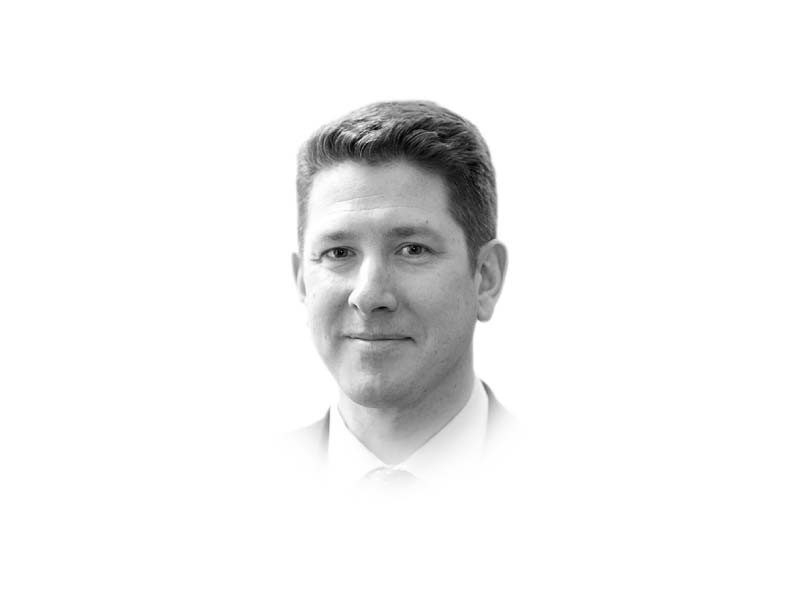 ---
Last Wednesday night the National Monument in Islamabad lit up purple to mark the Platinum Jubilee of Her Majesty Queen Elizabeth II. Celebrating her 96th birthday and the 70th year of her reign has been a special moment for the people of the UK and Commonwealth. We are also marking 75 years of the UK and Pakistan's enduring relationship.
These milestones, spanning nine decades, contain clear lessons for us all in these turbulent times.
Firstly, Her Majesty has shown unwavering commitment to what she calls "servant leadership", which she has defined as "the promotion of peace, the encouragement of education and culture, and far-sighted and enlightened plans for the future of the country as an open and tolerant society". She has undertaken over 260 official visits overseas, including nearly 100 state visits, with two to Pakistan in 1961 and 1997. In a speech on her 21st birthday in 1947, she pledged that "my whole life, whether it be long or short, shall be devoted to your service." It is a pledge that she has more than fulfilled.
Seeing leadership as an opportunity to serve others, Her Majesty is the patron of countless charities and awards to outstanding community volunteers, the most recent of which was a Commonwealth Points of Light Award to Pakistani lawyer and children's activist Tahera Hasan. She has also led on the importance of investing in youth and inclusion, respecting each other's differences. About 54% of Pakistan's 220 million people are under 24 years old. We need to ensure that we support their dreams and aspirations; and that we give its talented women and girls awaaz and marzi i.e. voice and choice. No nation can reach its full potential without 50% of its population. I am delighted that through our first class education programmes, UK is ek saath with Pakistan, making a difference to young people's lives. Last year alone, the UK granted nearly 10,000 student visas — a 78% increase on 2021.
Above all, Her Majesty's remarkable record of public service teaches us the value of finding common ground, not polarisation. That integrity, hard work and selflessness, her key qualities, are never more needed than today.
Secondly, is the importance of our partnership. The beating heart of the UK-Pakistan relationship is the deep and strong ties between our people. As there are around 1.6 million Pakistani diaspora in the UK; and about half a million annual visits in both directions with about 100,000 British nationals based in Pakistan, we need to harness those links and the deep affection between us. The 75 year anniversary reminds us of how far we have come to develop a modern partnership.
And to mark 75 years of this vibrant partnership, a British Council 'Season' of cultural events is aimed at young people; around 70 Pakistani athletes are currently preparing for The Commonwealth Games to be held in Birmingham over the summer. And of course, the England cricket team will tour Pakistan in the Autumn, ending a 17-year wait.
Finally, is a reflection on potential. The Platinum Jubilee and the 75 year anniversary remind us of the importance of bringing together the best of British and the best of Pakistan. At a time when Pakistan seeks to transform its economy and meet the needs of its rapidly growing young population, the UK is uniquely placed to help it deliver inclusive economic growth. Our Prime Ministers agreed last week to boost trade and investment: the UK wants to work with Pakistan by supporting a strong and open economy, generating new sustainable infrastructure investments, and doubling trade by 2025. I am proud that the UK is Pakistan's third largest trading partner and also the third largest source of Foreign Direct Investment (FDI); and we have kick-started a new Trade Dialogue with Pakistan, which will remove trade barriers and provide easier access to each other's markets.
The legacy from these celebrations will live on for our future generations. We owe it to our children and grandchildren to preserve the strength and vibrancy of our unique partnership for the next 75 years.
Published in The Express Tribune, June 11th, 2022.
Like Opinion & Editorial on Facebook, follow @ETOpEd on Twitter to receive all updates on all our daily pieces.
COMMENTS
Comments are moderated and generally will be posted if they are on-topic and not abusive.
For more information, please see our Comments FAQ