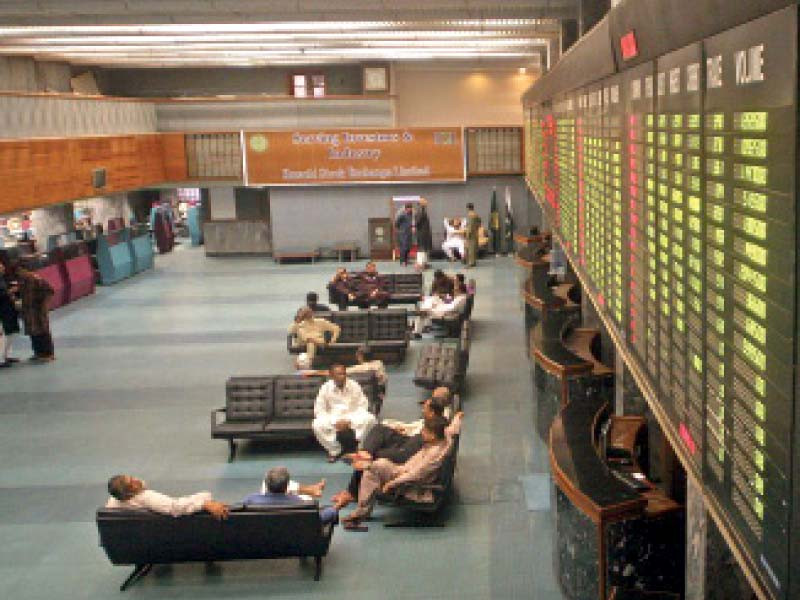 ---
KARACHI:
Top 100 companies listed at Pakistan Stock Exchange (PSX) have cumulatively posted a record high profit of Rs320 billion in the quarter ended March 31, 2022 on the back of sharp increase in commodity prices and a notable hike in the benchmark interest rate.
"Profitability of the KSE-100 index continues to soar, posting a jump of 34% year-on-year during the third quarter (Jan-Mar) of the current fiscal year 2022," Arif Habib Limited (AHL) said in a commentary.
The growth in profits in terms of rupee was led by the sectors including oil and gas exploration firms (Rs81 billion), commercial banks (Rs79 billion), oil and gas marketing companies (Rs39 billion) and fertiliser (Rs27 billion).
Besides, the cement sector posted a cumulative net profit of Rs155 billion during the quarter under review, followed by chemicals Rs12 billion, power Rs10 billion, textile composites Rs9 billion, food Rs7 billion, auto assemblers Rs6 billion and other companies booked a profit of Rs35 billion.
In percentage-term, the oil marketing companies (OMCs) led the show with a growth of 222%, followed by glass and ceramics 119%, miscellaneous 97%, petroleum oil refineries 87%, textile composites 79% and oil and gas exploration firms posted a return of 77% in the quarter under review compared to the same quarter of the previous year.
However, earnings of other heavyweight sectors such as technology and power generation contracted by 66% (Rs1.7 billion) and 36% (Rs10 billion), respectively.
The investment banks and engineering sector also showed a decline in earnings by 6% (Rs3.6 billion) and 65% (Rs2.6 billion), respectively.
Contrary to the robust growth in the net profitability of the top 100 companies, PSX benchmark KSE-100 index failed to match the growth trend and inched up by a meager 0.59% (or 267 points) during the quarter and closed at 44,929 points on March 31, 2022.
Acute political and macroeconomic instabilities shook investors' confidence during the quarter under review.
The situation encouraged the majority of investors to sell most part of their holdings and adopt a wait-and-watch strategy.
"Earnings growth was led by the heavyweight commercial banks sector given the recent interest rate hike (up by 525 basis points to 12.25% since September 2021)," AHL said in the report.
"This was followed by the fertiliser sector, in lieu of augmented urea prices coupled with a 17% year-on-year upturn in urea consumption," it said.
The oil and gas exploration sector also posted a noteworthy jump on the back of a significant rise in the international oil prices amid Russia-Ukraine conflict. Whereas, the cement sector posted a muted growth whereby the impact of higher retention prices was partially offset by the surge in coal prices.
The oil and gas marketing sector also impressed with its bottom-line aided by hefty inventory gains booked during the quarter. Other notable results were displayed by the textile composite (given rupee depreciation) and refinery sector (inventory gains).
Profit soars 23% in 9MFY22
The index profitability during the first nine months of the current fiscal year increased 23% to a record Rs822 billion compared to the same period of the previous year.
"Earnings of the index also improved by a stunning 93% year-on-year," the brokerage house said.
The jump in profitability has been broad-based with only four sectors among the top 15 heavy-weighted sectors posting a loss.
The 23% jump in earnings during the nine months was fueled by heavy-weighted sectors, including commercial banks which posted profits of Rs211.9 billion (up 18% year-on-year), oil and gas exploration sector registering earnings of Rs209.1 billion (up 52% year-on-year) and cement displaying a cumulative bottom-line of Rs40.8 billion (up 30% year-on-year).
Moreover, the technology sector posted a profit-after tax of Rs1.7 billion compared to a loss in the second quarter (Oct-Dec 2021) and automobile assembler generated profits of Rs21 billion (up 44% year-on-year). On the flipside, major laggards during the 9MFY22 were fertiliser (earnings dip 8% year-on-year), and the technology sector posted a loss of Rs9.3 billion.
Published in The Express Tribune, May 1st, 2022.
Like Business on Facebook, follow @TribuneBiz on Twitter to stay informed and join in the conversation.
COMMENTS
Comments are moderated and generally will be posted if they are on-topic and not abusive.
For more information, please see our Comments FAQ