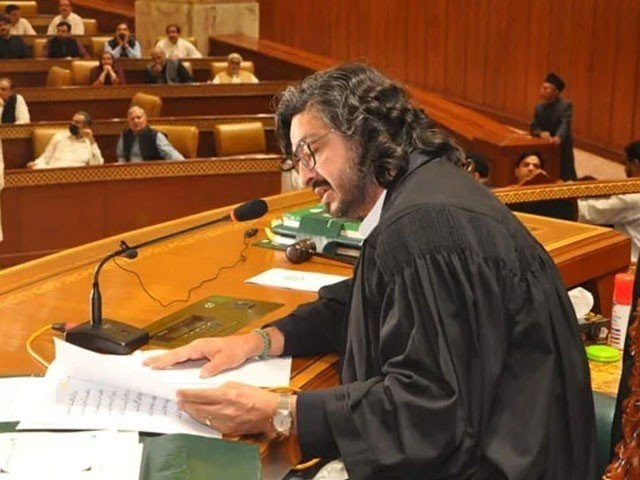 ---
LAHORE:
The controversy over the legality of the actions taken on April 16 -- the polling day for the Punjab chief minister's slot -- by then presiding officer Sardar Dost Muhammad Mazari, who is also the deputy speaker of the House, is deepening with each passing day as Speaker Chaudhry Parvez Elahi, a senior PML-Q leader, is not in a mood to accept his steps.
On Friday, when the Punjab Assembly secretary sought an explanation from the provincial police chief about his actions on April 16, the deputy speaker declared that the secretary's act was "illegal", claiming that a "suspended" official could not intervene in the assembly's matters.
Then acting speaker Mazari on April 16 had suspended four officials including the assembly's secretary, Muhammad Khan Bhatti, over not cooperating with him and not following his lawful directions to make the contest peaceful.
Read more: Mazari suspends four secretariat officials after PA ruckus
After that, Mazari also formed a special committee comprising nine MPAs to investigate the physical assault on him and the other lawmakers. The body was also tasked with identifying the MPAs who had obstructed assembly proceedings and further sought its recommendations for appropriate action against them.
After the election, Elahi, who was contesting for the CM's slot, resumed his post as the speaker. He then declared the election as well as all the actions taken by Mazari as "illegal".
On Friday, "suspended" PA secretary Bhatti wrote to the IGP, in response to a privilege motion submitted against him, seeking an explanation of his position on the four queries within three days.
Bhatti asked on whose authorisation and orders the police had entered the assembly premises in general and its chambers in particular, despite the rules not providing them or any other force to operate there.
He also inquired under which law and on whose complaint an FIR was registered against MPAs.
"A motion was moved against the incident [that] occurred on April 16 on charges of violation of dignity and sanctity of the Assembly by illegal actions of [the] Punjab police," he wrote.
Also read: PTI files no-trust motion against its own deputy speaker in PA
"You are also requested to provide the list of police officers and officials with their names, designation, credentials etc. Also provide the requisition for deployment of troops at assembly."
Deputy Speaker Mazari, responding to this letter, also wrote to the chief secretary, IGP, Lahore High Court registrar and Bhatti making it clear that "it must be noted that you [Bhatti] stand suspended on April 16, 2022 therefore you misrepresented yourself in the letter addressed to the IGP".
"The content of your letter presents a distorted and mutilated versions of the actual facts, henceforth, doesn't have any legal sanctity and is hereby quashed, declared null and void and of no legal effect," he added.
COMMENTS
Comments are moderated and generally will be posted if they are on-topic and not abusive.
For more information, please see our Comments FAQ