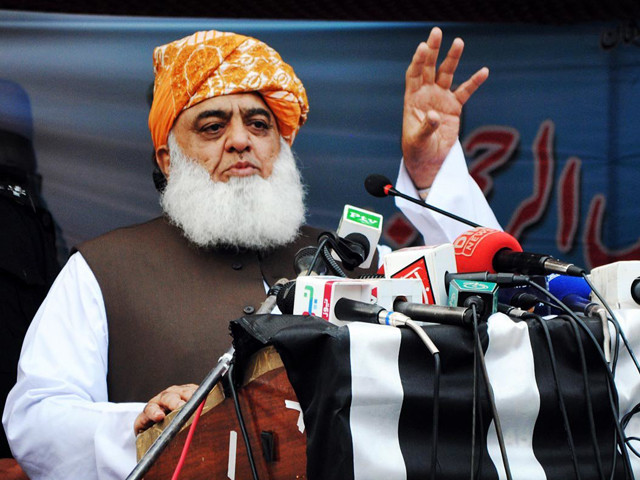 ---
PESHAWAR:
Jamiat Ulema-i-Islam-Fazl (JUI-F) Chief Maulana Fazlur Rehman on Monday demanded that general elections be held immediately in the country.
Fazl's remarks came while he was addressing party workers at his residence in Peshawar. "The present new government has been formed for a maximum period of one year and despite being a part of this government, JUI has its own position and distinct identity," Fazl said.
He added that though the former premier had been dismissed, it was JUI-F's responsibility to return to the nation and gain trust.
Read More: Early elections only way to save economy
"There should be electoral reforms to address reservations on the electoral system. It would also stop anyone from taking advantage of its current flaws as they [the elections] could be rigged again," he said.
"Electoral reforms can be made by taking advantage of the existing assemblies while other necessary reforms can also be made. However, there is a limit to expediency. Prolonging power unnecessarily and extending it is not the policy of JUI-F in any way. It is our opinion that we put before [our stance] our allies so that the situation is clear."
Regarding Imran's rallies, the JUI-F chief said that following the Inter-Services Public Relations (ISPR) press conference last week, the "letter was fake as it was on white paper". He added that diplomatic cyphers are communicated on pink, yellow and green coloured papers.
He further alleged that Imran changed the wording of the diplomatic correspondence disregarding his oath as the prime minister.
"His politics is dead and the people are weeping because of it. It cannot be resurrected. We have to be vigilant so that situation does not get out of control," he added.
COMMENTS
Comments are moderated and generally will be posted if they are on-topic and not abusive.
For more information, please see our Comments FAQ