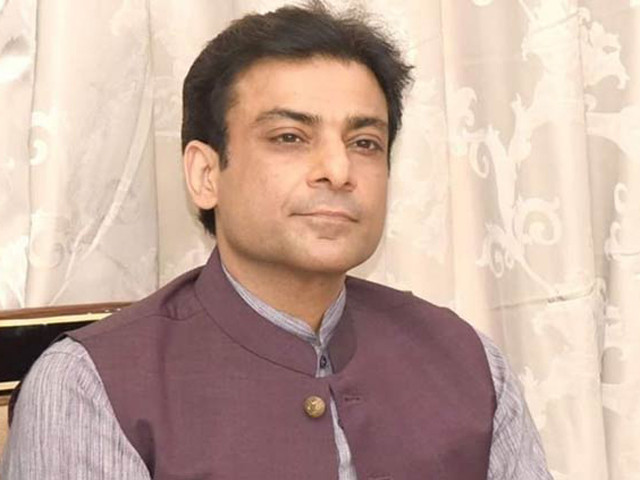 ---
LAHORE:
Pakistan Muslim League-Nawaz (PML-N) vice president Hamza Shehbaz, who is staking claim to the Punjab chief minister's post after traumatic events in the provincial assembly on Saturday, is the scion of a family that has intermittently remained in power since the 1990s.
He is the son of Prime Minister Mian Muhammad Shehbaz Sharif who is also the president of the PML-N. Hamza is nephew of Nawaz Sharif who has ruled the country thrice as prime minister.
Hamza Shehbaz was born on September 6, 1974 in Lahore. He graduated from Government College, Lahore and obtained the degree of LLB from London School of Economics.
He formally entered the realm of politics in 2008 at the age of 34, contesting election from the National Assembly constituency NA-118, a PML-N stronghold. He again contested election for the seat in 2013 and won by a wide margin.
He is a businessman having a net worth of over Rs411 million, according to his assets declaration of 2018.
Hamza contested the 2018 election from PA-146 and since then had been the opposition leader in Punjab Assembly.
Analysts believe he was sent to the Punjab Assembly in 2018 from the National Assembly to fill the shoes of his father Shehbaz Sharif who had served as the chief minister for the previous two terms.
Hamza did contest for the post of chief minister in 2018 but lost to Sardar Usman Buzdar. During his father's rule as the chief minister, he had remained proactive not only in Punjab politics but also in administrative affairs of the province.
Party leaders say he is also well versed in the politics of local bodies and had played a key role in shortlisting candidates in the past polls. Hamza Shehbaz is currently on bail in two cases. During much of the period as opposition leader, he remained behind the bars.
Read 'Stolen mandate returned to people': PML-N celebrates Hamza's election as CM
He remained in prison for 20 months, before being released on bail in July last year on two surety bonds of Rs10 million each in a case of money laundering and owning assets beyond declared means.
The other case too was of money laundering. Hamza and the prime minister were on interim bail in the case, awaiting indictment.
This, however, was not his first time behind bars, Hamza had also served jail time in 1994, when he was a student.
In first case of money laundering and asset beyond means, the National Accountability Bureau (NAB) had alleged that Hamza had a net worth of a few million rupees in 2003 but had amassed assets worth around Rs537 million by 2018 without any known means of income. Coupling this were allegations of illegal transactions to his bank accounts. The second case in which Prime Minister Shehbaz as co-accused was of Rs16 billion money laundering, in which the duo were expected to be indicted on April 27.
Party leaders say Hamza's popularity in grassroot workers of the PML-N has much to do with his authority in the provincial chapter of the party. He is not known for humility.
Up till recently, he was widely seen as second in line to the Sharif family's throne, after Maryam Nawaz, daughter of Nawaz Sharif.
Published in The Express Tribune, April 17th, 2022.
COMMENTS
Comments are moderated and generally will be posted if they are on-topic and not abusive.
For more information, please see our Comments FAQ