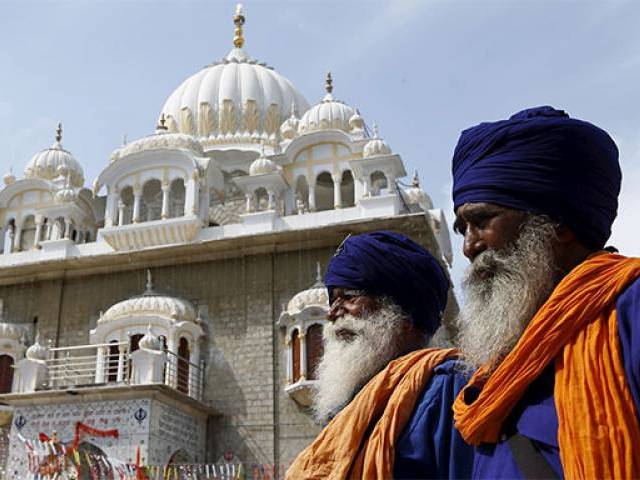 ---
LAHORE:
Election rhetoric aside, the Indian government representatives have a habit of making statements that are further from the truth – be it anti-Pakistan propaganda or more recent claims that had Nardenra Modi been prime minister back in the day Kartarpur would have been part of India.
In a recently fiery election campaign speech, Indian Home Minister Amit Shah said that if the incumbent Indian premier had been the prime minister in 1947, Nankana Sahib and Kartarpur would have been part of India. The home minister's statement is similar to ones which have been said in past election rallies to reinforce the Bharatiya Janata Party's narrative of slinging mud at Pakistan to ramp up electoral support.
Dr Kalyan Singh Kalyan, who is the first Sikh professor at the Punjabi Department of Government College Lahore, expressing his disappointment at the statement said that the minister should be wary of making tall claims especially when even today the Sikh nation regrets its decision of 1947. "The treatment that Sikhs and other minorities have been dished out by the BJP-led government is horrific. The Sikh nation today strongly dislikes the Akalis whose elders joined India in 1947 instead of Pakistan and has rejected them through their votes. Therefore, Amit Shah's statement is a joke."
Dr Kalyan was of the view that if the Indian home minister has any doubt where Sikhs would stand today, he should look inward and realise how much the BJP's hateful rhetoric has broken secular India. "The BJP's policies cannot unite India; rather they promote violence against minorities which we have seen a rise in recent times," he said.
Pakistani Sikh leader, Sardar Bishan Singh, reiterating Dr Kalyan's sentiments that if Sikh leaders had not made a mistake in 1947, then Amritsar would have been part of Pakistan. "What has India done for the Sikhs that Amit Shah has made such a statement?" he inquired. Highlighting the plight of Sikhs in Pakistan's neighbouring country, Sardar Bishan said that the Golden Temple, the holiest place of Sikhs in India was attacked, Indian army entered there with tanks, hundreds of innocent people were killed, and Sikhs were massacred in 1984.
Read Kartarpur Corridor reunites another family after 75 years
"To date the Sikh Marriage Act has not been enacted in India," Sardar Bishan said. "If their memory is weak, the treatment they subjected Sikh farmers in Punjab to last year is before us. So, Amit Shah should be ashamed of giving such a statement."
Sardar Bishan Singh along with Sardar Amir Singh, Head of the Sikh Gurdwara Prabandhak Committee, which is the representative of Sikhs in Pakistan, said that they were lucky to live in Pakistan which was the birthplace of Guru Nanak Devji and his last resting place. Sardar Amir, rubbishing past claims by Amit Shah that the Modi government was responsible for the success of Kartarpur corridor, said that the whole world knows that the Kartarpur corridor came into being because of the efforts of the Pakistani government.
"The Modi government opened the corridor due to pressure from Sikhs all over the world and even now the Sikhs are prevented from coming to Pakistan through the corridor by various tricks and excuses. Amit Shah should compare the Sikhs living in India and Pakistan and see who is living more freely and refrain from making such ignorant statements," Sardar Amir told The Express Tribune.
COMMENTS
Comments are moderated and generally will be posted if they are on-topic and not abusive.
For more information, please see our Comments FAQ