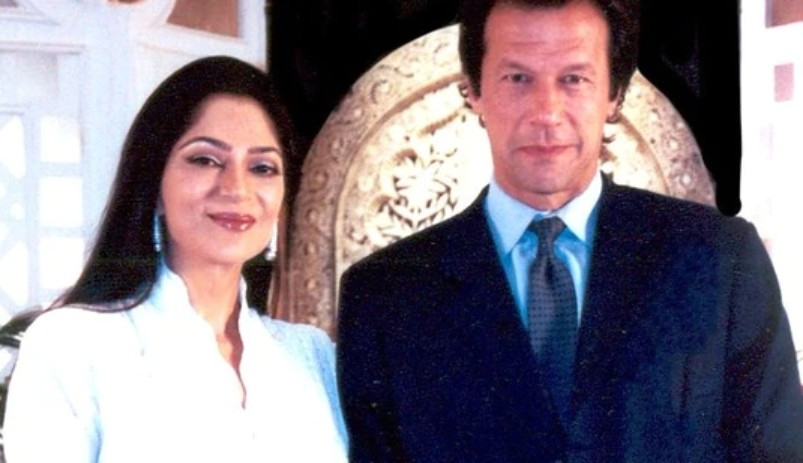 ---
Indian actor and renowned television presenter Simi Garewal on Sunday said she has known Imran Khan for 40 years and while he may have many failings, corruption is not one of them. After Khan was ousted by the no-confidence vote in the Pakistan National Assembly on April 10 after many delays, Garewal tweeted her takeaways from his exit.
Garewal, who had interviewed Khan on her eponymous A Rendezvous with Simi Garewal in 2006, wrote, "Imran Khan's exit as prime minister teaches: 1. A joint opposition can dismiss a popular PM. 2 Politics is no place for idealists." Garewal swore that idealism was at Khan's core.
#ImranKhanPrimeMinister exit teaches: 1. A joint opposition can dismiss a popular Prime Minister. 2 Politics is no place for idealists. (I've known Imran for 40 yrs & idealism is at his core). He may have other failings - but corruption is not one of them.

— Simi Garewal (@Simi_Garewal) April 9, 2022
After Khan had won the elections in 2018, a tweet from the presenter had created quite the stir too, prompting her to delete it later. In her deleted tweet, Garewal had revealed a secret Khan once shared with her. Garewal had said that Khan once told her, "A pir has predicted that I will become Pakistan's PM one day and be assassinated." She remarked, "Seems Imran wanted it... despite the cost. It's sad (sic)."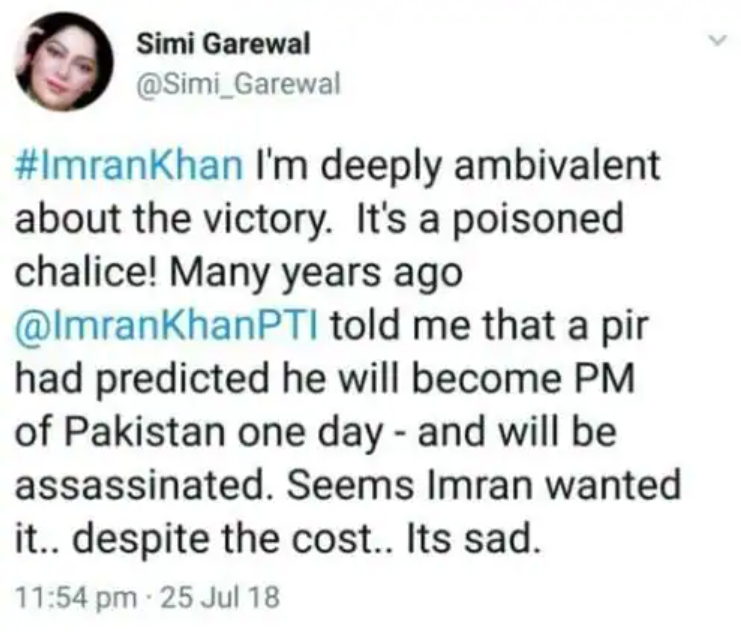 (Screenshot via Hindustan Times)
Garewal's tweet triggered a controversy, following which, she deleted it to post a simple congratulatory message for Khan, alongside an advice. "Congratulations Imran Khan, you worked tirelessly for this day. And the new harder journey has just begun. Wishing you every success. Make those dreams you harboured a reality. You can do it. And be safe," she wrote.
To oust Khan, 174 lawmakers supported the joint opposition's no-confidence motion that required 172 votes in a parliament of 342 members. The outcome shook the political earth of the country, seemingly bringing an end to a protracted crisis. After three-and-a-half years, Khan's PTI struggled to stay in power as its allies betrayed to joined hands with opposition parties. And while Pakistan's history has been marred with political instability, no prime minister has ever been removed from office through a motion of no-trust.
Have something to add to the story? Share it in the comments below.
COMMENTS
Comments are moderated and generally will be posted if they are on-topic and not abusive.
For more information, please see our Comments FAQ