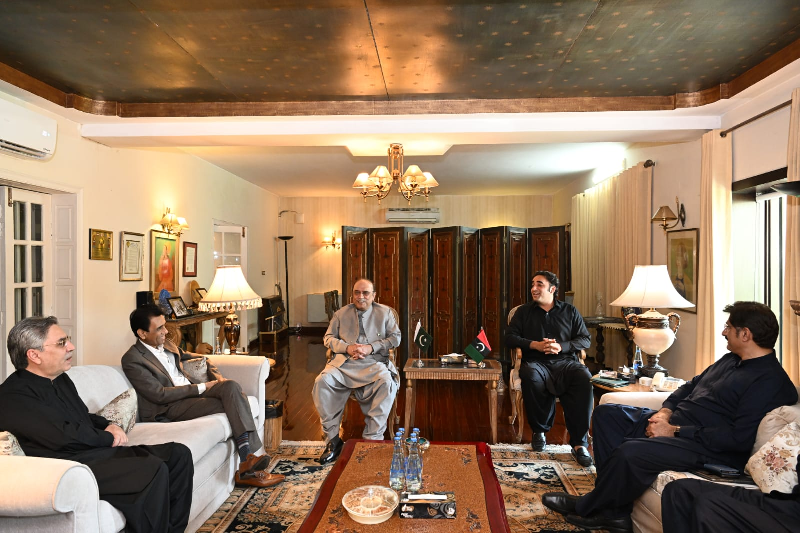 ---
ISLAMABAD:
The joint opposition and the Muttahida Qaumi Movement-Pakistan (MQM-P) finally reached an agreement on late Tuesday night regarding the no-confidence motion tabled against Prime Minister Imran Khan in the National Assembly.
The united opposition and MQM have reached an agreement. Rabta committee MQM & PPP CEC will ratify said agreement. We will then share details with the media in a press conference tomorrow IA. Congratulations Pakistan.

— BilawalBhuttoZardari (@BBhuttoZardari) March 29, 2022
The MQM-P spokesperson officially confirmed that an agreement was drafted with the opposition, saying details of the agreement would be revealed in a news conference at 4pm on Wednesday.
"The united opposition and MQM-P have reached an agreement. The MQM-P's Rabita Committee and the PPP's CEC will ratify the said agreement. We will then share the details with the media in a news conference. Congratulations Pakistan," PPP Chairman Bilawal Bhutto Zardari tweeted.
متحدہ اپوزیشن اور متحدہ قومی موومنٹ پاکستان کے درمیان معاہدہ نے حتمی شکل اختیار کر لی ہے
پیپلز پارٹی کی سی ای سی، ایم کیو ایم پاکستان کی رابطہ کمیٹی مجوزہ معاہدے کی توثیق کے بعد اس کی تفصیلات سے کل شام۴ بجے باضابطہ میڈیا کو آگاہ کیا جائے گا۔
@MQMPKOfficial @PPP_Org @pmln_org

— Faisal Subzwari (@faisalsubzwari) March 29, 2022
Reportedly, the MQM-P joined the opposition after the PML-Q decided to side with the government when Premier Imran took resignation from Punjab Chief Minister Usman Buzdar and offered the position to PML-Q leader Chaudhry Pervaiz Elahi in exchange for the party's support on the no-trust motion against him.
READ Opposition leaders 'bid farewell' to PM Imran at PDM power show
Apparently, as the MQM-P has chosen sides, the opposition parties will have more than the required numbers to oust PM Imran through the vote of no confidence even without the PTI's roughly two dozen dissidents.
The decision had to be announced in a late night news conference of the joint opposition and the MQM-P leadership at the Parliament Lodges but at around 3am, it was decided to make the announcement on Wednesday at 4pm.
Sources said that both the sides reached written agreements at provincial and federal level, assuring the MQM-P that all their demands would be fulfilled.
الحمد للّٰہ

متحدہ اپوزیشن اور متحدہ قومی موومنٹ پاکستان کے درمیان معاہدہ نے حتمی شکل اختیار کر لی ہے

پیپلز پارٹی کی سی ای سی اور ایم کیو ایم پاکستان کی رابطہ کمیٹی مجوزہ معاہدے کی توثیق کے بعد اس کی تفصیلات سے کل شام چار بجے باضابطہ میڈیا کو آگاہ کیا جائے گا۔

— Khawaja Saad Rafique (@KhSaad_Rafique) March 29, 2022
The MQM-P has been seeking an answer to its demands from both the government and the opposition in writing, saying that the party would side with whoever comes up with a better response as it has to satisfy its voters and supporters.
The demands included opening of the party's offices, recovery of missing party workers, discarding of "fake" cases against the party leadership and workers, among other things.
COMMENTS
Comments are moderated and generally will be posted if they are on-topic and not abusive.
For more information, please see our Comments FAQ