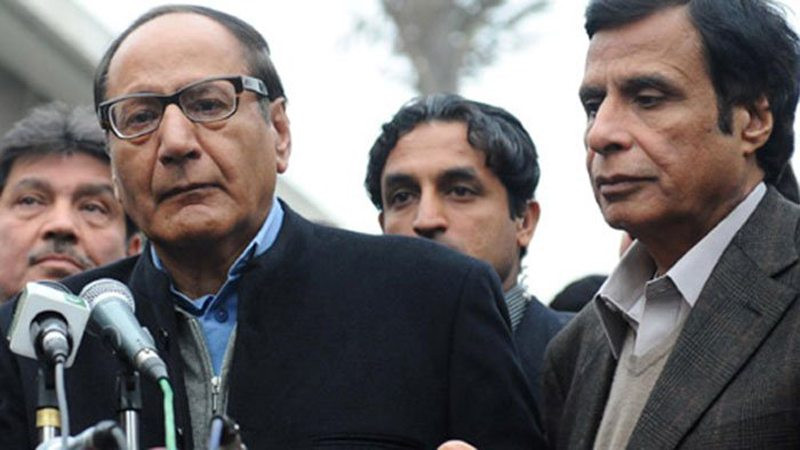 ---
LAHORE:
Pakistan Muslim League-Quaid (PML-Q) President Chaudhry Shujaat on Tuesday denied the reports of a rift among the leaders of the PML-Q as baseless, saying his "family and the party are on the same page".
The remarks of the PML-Q chief came in the wake of the deal between the ruling Pakistan Tehreek-e-Insaf (PTI) and the Punjab-based party wherein Prime Minister Imran Khan agreed to give the coveted slot of the Punjab chief minister to Pervaiz Elahi in return for the support on the no-confidence motion submitted by the opposition.
The deal reportedly prompted a rift within the party with Tariq Bashir Cheema revolting against the decision and announcing to vote against PM Imran. Cheema also resigned from the federal cabinet, giving rise to speculations regarding a rift in the Chaudhrys of Gujrat.
In response to the reports in the media about the rift, Shujaat said all decisions were taken after consultations with him. "I endorse all these decisions," he said, adding that the "rumours" making rounds in the media were false.
Read No-trust motion tabled in NA amid hullabaloo
The PML-Q chief said, "I don't like to issue clarifications but I will still make it clear that I am considered as the patriarch." All the decisions, taken in the party and the family so far, have my approval, he said, adding that it was inappropriate to twist the facts.
Shujaat said the number of youngsters in the current assemblies was higher compared to previous assemblies and it was "wrong to make allegations against them". He added that the use of money in politics should not be allowed as "literate people especially don't like such practices".
The PML-Q president said people who wanted to take "political advantage" by disseminating false information will not succeed. He added that one should not indulge in propaganda by "dubbing an opinion as a decision".
COMMENTS
Comments are moderated and generally will be posted if they are on-topic and not abusive.
For more information, please see our Comments FAQ