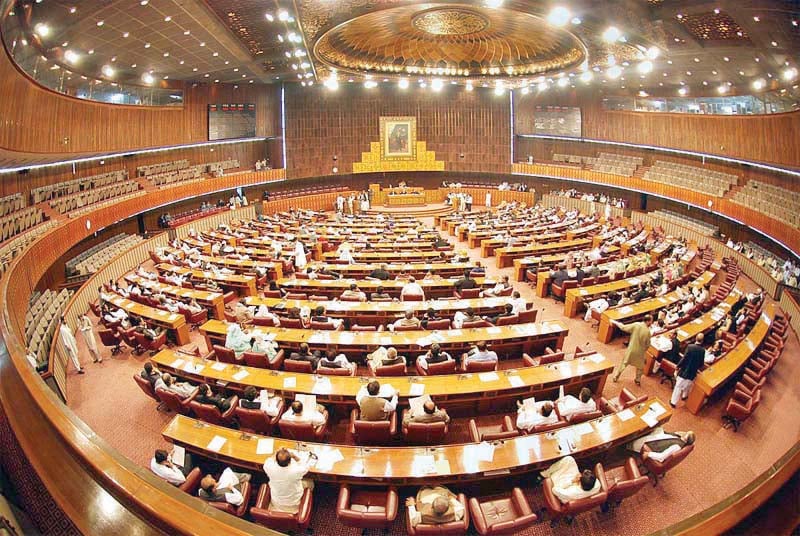 ---
ISLAMABAD:
The much-anticipated session of the National Assembly to deliberate on the no-confidence motion filed against Prime Minister Imran Khan by the opposition parties will be held today (Monday).
Earlier, the lower house of parliament was scheduled to take up the no-trust motion on March 25, but following the parliamentary traditions on the demise of a lawmaker, only Fateha was offered and speeches were given after which the NA speaker adjourned the session till March 28 (today).
The session had started with the recitation of the Holy Quran and prayers were held for PTI MNA Khayal Zaman.
Ruling PTI's Shah Mahmood Qureshi, Shireen Mazari, Asad Umar and Ali Muhammad Khan were among those attending the session, as well as Grand Democratic Alliance's Dr Fahmida Mirza.
From the opposition's ranks, Leader of the Opposition in the National Assembly Shehbaz Sharif, PPP Chairman Bilawal Bhutto Zardari and PPP Co-chairman Asif Ali Zardari were present.
Read: No-trust voting likely on April 3 or 4, says Rashid
On Sunday, the National Assembly Secretariat issued 'Orders of the Day' for Monday's session which included the no-confidence motion.
The opposition, which has 162 members, filed the con-confidence motion on March 8. The motion, moved by 152 opposition members, said that Prime Minister Imran had lost the confidence of the house. The ruling coalition currently has the support of 179 members of the National Assembly.