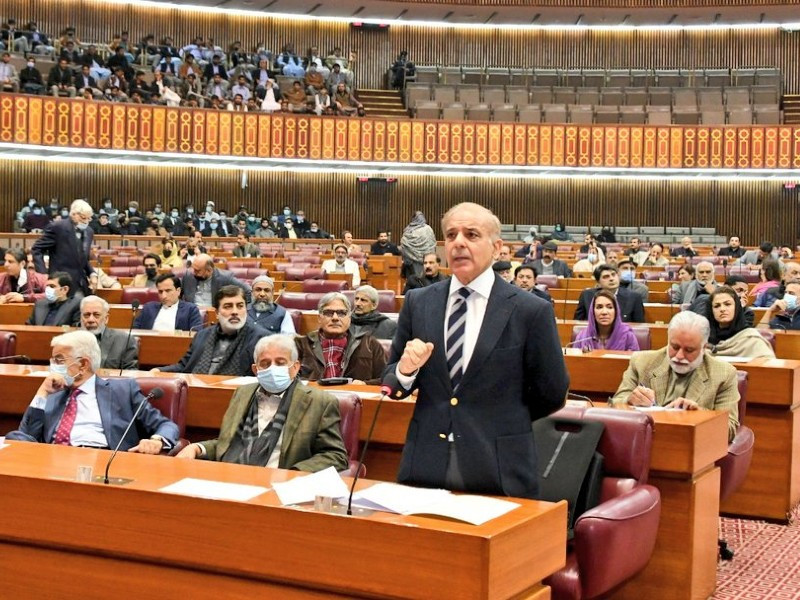 ---
ISLAMABAD:
Leader of the Opposition Shehbaz Sharif on Friday wrote a letter to National Assembly Speaker Asad Qaiser, expressing reservations on the government's conduct, particularly the delay in convening the no-confidence motion session of the lower house.
Shehbaz highlighted that the motion was submitted on March 8 and the requisition was also submitted on the same day, adding that the notices for the motion should have been sent immediately. "But that did not happen, rather some members of parliament received a copy of the notice on March 19," he regretted.
He pointed out the constitutional duties of the speaker, whereby he is legally required to convene the session within 14 days of the submission of the motion, adding that the speaker did not fulfil his constitutional obligations.
Moreover, the Pakistan Muslim League-Nawaz (PML-N) president also wrote a letter to the home secretary, district administration and inspector general of the federal capital on March 24, wherein he highlighted the submission of the no-confidence motion.
Read: NA session put off sans tabling of no-trust
In his letter, he wrote that the constitution and law are clear about convening the session on the said matter, and every member of the lower house has the right to attend the meeting.
He added that the prime minister, federal ministers and advisers, along with other government officials, made statements regarding the suspension of members. He further said that the government was using non-parliamentary language in this regard, and the premier even threatened the opposition leader at a rally.
Shehbaz said that Prime Minister Imran has given the call for gathering 1 million people at D-Chowk, saying that the members of the lower house would have to go through these people. He added that there is a risk of bloodshed in this regard.
It is pertinent to mention here that the much-anticipated session of the National Assembly with a crucial no-confidence motion — filed by the opposition against Prime Minister Imran Khan — on the agenda was adjourned till March 28 (Monday) without tabling of the resolution.
Read: No-trust vote: NA speaker vows to fulfil constitutional obligations
The speaker said he was adjourning the session after 'fatehakhwani' as per the traditions of the lower house of parliament to show respect for departed MNA Khayal Zaman.
In response to the no-confidence motion, Qaiser said he will allow the debate on the no-confidence motion as per the Constitution on Monday, March 28.
As he adjourned the session, the opposition leaders started protesting, requesting the speaker to take up the motion but the speaker did not turn their mics on and retired to his chamber.
COMMENTS
Comments are moderated and generally will be posted if they are on-topic and not abusive.
For more information, please see our Comments FAQ