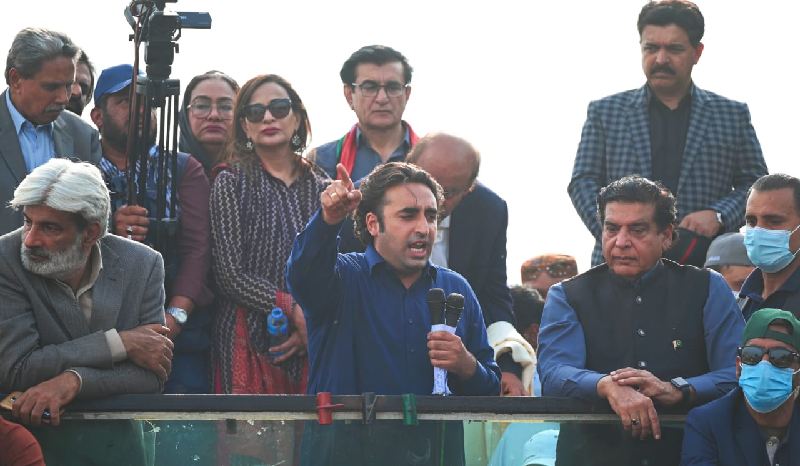 ---
As Khyber-Pakhtunkhwa braced for the second phase of the local government polls amid a country-wide charged political environment, the Pakistan Peoples Party (PPP) announced on Thursday holding four rallies in the province from March 20 onwards.
پاکستان پیپلزپارٹی نے خیبرپختونخوا میں چار بڑے جلسوں کا اعلان کردیا

پاکستان پیپلزپارٹی کے چیئرمین بلاول بھٹو زرداری چترال، اپر دیر، مالاکنڈ اور کرم ایجنسی میں ہونے والے جلسوں سے خطاب کریں گے@BBhuttoZardari

— PPP (@MediaCellPPP) March 17, 2022
The rallies will be addressed by PPP Chairperson Bilawal Bhutto and will be held in Chitral, Upper Dir and Malakand from March 20-21 respectively, and in Kurram on March 25.
چیئرمین بلاول بھٹو زرداری چترال میں 20 مارچ اتوار کو جلسہ عام سے خطاب کریں گے

چیئرمین بلاول بھٹو زرداری اپر دیر میں 21 مارچ پیر کو جلسہ عام سے خطاب کریں گے

چیئرمین بلاول بھٹو زرداری مالاکنڈ میں 22 مارچ منگل کو جلسہ عام سے خطاب کریں گے

— PPP (@MediaCellPPP) March 17, 2022
چیئرمین بلاول بھٹو زرداری کرم ایجنسی میں 25 مارچ جمعہ کو جلسہ عام سے خطاب کریں گے

— PPP (@MediaCellPPP) March 17, 2022
The PPP's statement came ahead of the second phase of K-P local government elections.
The announcement also came a day after the Election Commission of Pakistan (ECP) barred Prime Minister Imran Khan and Chief Minister Khyber-Pakhtunkhwa from attending a political rally in K-P's Kurram district, where the premier was scheduled to address a public meeting.
Read PTI govt planning assault on Sindh House, alleges PPP
District Returning Officer Karam Khushalzada issued notices to PM Imran and Chief Minister Mahmood Khan through the principal.
The electoral watchdog issued the warning in light of K-P's upcoming local government elections.
In an earlier letter, the commission had informed the premier that he as well as other public officer-holders could not visit any area of any local council or announce any development scheme after the issuance of the election schedule.
COMMENTS
Comments are moderated and generally will be posted if they are on-topic and not abusive.
For more information, please see our Comments FAQ