 ---
The Pakistan Peoples Party on Thursday alleged that the PTI-led government was planning an 'assault' on Sindh House in the federal capital, a day after Prime Minister Imran Khan said the opposition was present at the premises with 'bags full of money' to 'buy loyalties of government lawmakers'.
The accusations were made in a joint statement by PPP MNAs Abdul Qadir Patel, Abdul Qadir Mandokhel, Abid Hussain Bhayo, Javed Shah Jilani, Ehsan Mazari, Naveed Dero and Mehreen Bhutto.
"After the brutal incident of Parliament Lodges, the government is now preparing to attack Sindh House," the statement read, adding that PM Imran's government is bent on 'carrying out terrorism'.
Intensifying speculation and giving no definite answer, PML-Q leader Pervez Elahi earlier confirmed horse-trading by the opposition, saying that around 10-12 government lawmakers were in the "safe custody" of the opposition.
Read More: Rashid urges calm, reconciliation prior to no-confidence vote
"We have tracked them down; they are in the opposition's safe custody. The government is actually more concerned about them. The ones who they looked forward to [for support] have stated they are now neutral. No friendly country or institution will come near this matter," Elahi had claimed.
The PPP's joint statement further requested the Sindh government to provide them accommodation and security in the Sindh House as their lives were not safe after the 'terror incident' that took place at the Parliament Lodges in Islamabad'.
"We demand the protection of the Sindh Police which is our constitutional right," the statement said. "We have information that Islamabad Police and Imran Khan's personal thugs, Tiger Force, are planning an attack on Sindh House."
The statement added that PM's government would be responsible for violating the Constitution if the property of the Sindh House was damaged or any MNA was harmed.
However, in a talk with the media earlier today, Interior Minister Sheikh Rashid dismissed the PPP's claims and said 'no action' was being planned against Sindh House.
"We are not taking any action against anyone right now. There are some people in Sindh House and they have deployed around 400 policemen, but no problem. There are many days [left]."
'Sindh house hub of horse-trading'
Speaking to the media later in the afternoon, Information Minister Fawad Chaudhry said the Sindh House has become a hub of horse-trading, where members were 'placing bids' and strict action was being planned against it.
The minister, referring to Pakistan's significantly young population, said PTI cannot hand over the future of the youth to 'thieves and robbers'.
"We will never allow our country to be handed over to bandits and thieves," he said. "At present, the centre of horse-trading is Sindh House where members are bidding."
He further added that there were reports that certain lawmakers were staying at the premises and large sums of money were changing hands.
"The police has been called and we are planning strong action against horse-trading".
PTI's lawmaker from Karachi and Minister for Maritime Affairs Ali Haider Zaidi, in a letter to secretary Establishment Division, said 400 SSU commandoes of the Sindh Police have been deployed to Sindh House.
"The Police Service of Pakistan is meant for provision of protection and safeguard of citizens of Pakistan without any political affiliation."
Urging the secretary to initiate an 'immediate' inquiry under E&D Rules against DIG Maqsood Memon, Zaidi said this was a 'glaring violation'.
He further asked the secretary to personally intervene in this situation and conduct the inquiry.
On Wednesday, the prime minister urged the people to reach Islamabad's D-Chowk on March 27 – a day ahead of the no-confidence motion – to show that they stand with the "truth" and against the "slaves of America".
Earlier this week, the PTI had announced that it would hold a "massive power show" at Islamabad's D-Chowk on March 27 and pull out one million people to the streets to "express confidence in their leader [PM Imran]". The ruling party is expected to give a plan of action on opposition's no-confidence motion, which it believes would fail.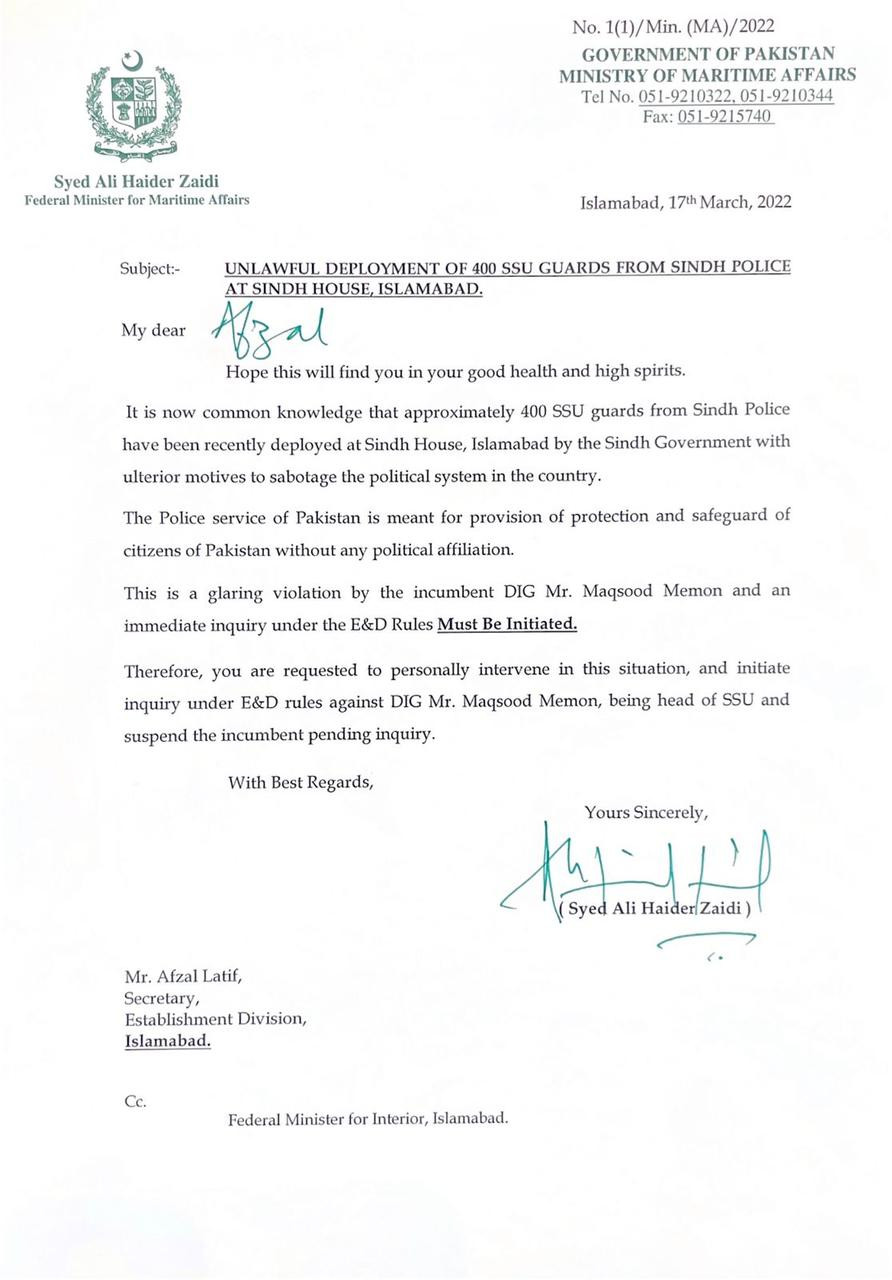 COMMENTS
Comments are moderated and generally will be posted if they are on-topic and not abusive.
For more information, please see our Comments FAQ