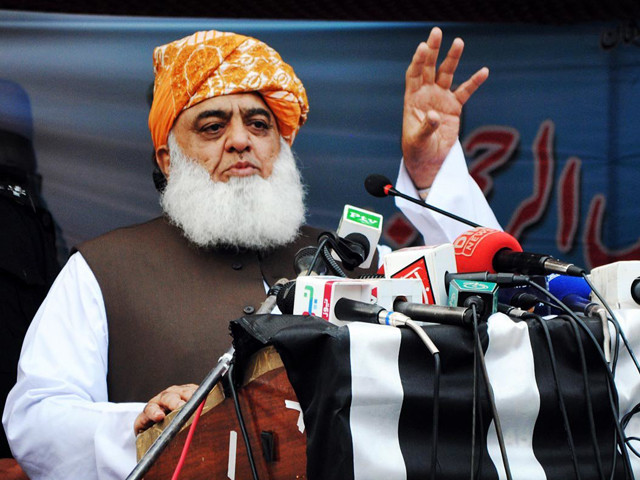 ---
ISLAMABAD:
After police released Jamiat Ulema-i-Islam-Fazl's (JUI-F) workers, who were detained the night before for entering the Parliament Lodges, party chief Maulana Fazlur Rehman on Friday called off plans to block major throughfares across the country.
On March 10, a verbal slugfest between the government and the opposition turned violent after the Islamabad Police came into action when members of Ansarul Islam, a uniformed volunteer force of the JUI-F, entered the Parliament Lodges in large numbers under the pretext of providing security to the lawmakers.
The government described the uniformed volunteer force of the JUI-F, Ansarul Islam, as a "private militia" and backed the police on storming the Parliament Lodges and arresting JUI-F MNA Salahuddin Ayubi, MNA Maulana Jamaluddin and 19 others.
Read More: JUI-F supporters block three main highways
Whilst addressing the workers today, Fazal said that there was no need to block roads since all the workers and the MNAs had been released before dawn.
He further congratulated the people and said he was grateful to the workers of JUI-F and other parties for the "victory and for responding to the call, giving an immediate response and shutting down the country in less than an hour".
The JUI-F chief added that Islamabad Police was violating all laws and ethics by raiding Parliament violating and 'unjustifiably torturing, dragging elected representatives of the nation and arresting them and their guests'.
"By putting a false picture of the incident and a statement based on lies in front of the nation, he (the prime minister) tried his cover up his dark character in the pages of history," Fazl said.
COMMENTS
Comments are moderated and generally will be posted if they are on-topic and not abusive.
For more information, please see our Comments FAQ