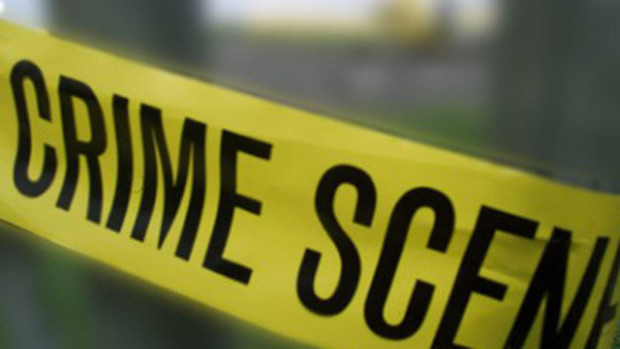 ---
KARACHI:
Body of a 22-day-old baby girl, with her throat slit, was found inside a house in Liaquatabad.
The murder took place on Thursday evening, and upon receiving the information, police rushed to the spot and immediately called the crime scene unit, which gathered evidence from the scene.
In this regard, DIG West Nasir Aftab told The Express Tribune that the initial investigation revealed a mystery in the incident. However, police were investigating the murder of the innocent child in light of the statement given by the victim's mother, Hamima, 18, and the evidence found at the scene.
He said that the slain girl's mother had told the police that she was alone in the house at the time of the incident and her husband had gone to work. According to her, a boy wearing a mask entered the house through the roof, pushed her, hit her head against the fridge, and she passed out. When she regained consciousness, her daughter's throat was slit and lying on the bed, whereas everything in the wardrobe was scattered.
Aftab said that when the police inspected the house's roof, it was observed that it was difficult for anyone to enter the house through the roof. However, the police are investigating in light of the woman's statement, the evidence collected and assured to unravel the mystery of the gruesome murder soon.
At the Abbasi Shaheed Hospital, the girl's father, Saad Hussain, 24, and his friend told the media that a robbery had taken place in the house. Hussain said that he reached the hospital as soon as the incident was reported to him. His wife was also brought to the ASH for medical treatment. Hussain said he married a year ago, and the victim was his first child.
In this regard, SSP Central Maroof Usman said that contradictions were found in the statements made by the victim's mother. However, the family was in shock. Therefore, the police are also cautiously probing the case.
SHO Liaqatabad Inspector Liaqat Hayat said that jewellery, cash, mobile phone and other items were found in the house, and nothing was stolen. There were also no signs of injuries on the woman's head.
Published in The Express Tribune, March 11th, 2022.
COMMENTS
Comments are moderated and generally will be posted if they are on-topic and not abusive.
For more information, please see our Comments FAQ