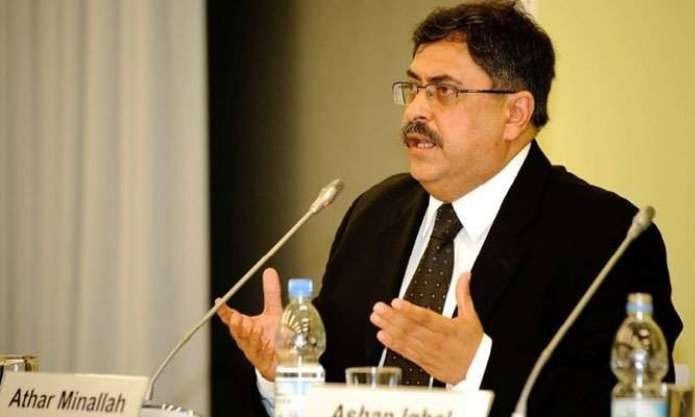 ---
ISLAMABAD:
The Supreme Court Bar Association (SCBA) has strongly rejected and condemned the social media propaganda campaign launched by "unknown elements" with the "complicity and connivance" of the state against Islamabad High Court (IHC) Chief Justice Athar Minallah.
In a statement issued on Wednesday, the association said that the derogatory and contemptuous statement against the chief justice in the wake of his "utterly justified" observations on the PECA Ordinance appears to be a "desperate effort to malign and slander the dignity of the judiciary".
SCBA not only endorsed Justice Minallah's observations, but also reiterated its full support to the top judge of the high court. It also reiterated its stance that this "draconian law" is an attempt to silence political opponents and all those who believe in the freedom of speech, opinion and expression.
"The legal fraternity will not allow anyone to sabotage the dignity and repute of our institutions especially judiciary, may come what," it categorically stated.
Also read: Justice Minallah bringing IHC into limelight
In order to curb the propagation of derogatory content, the association called for stern action by law enforcement agencies and their relevant department. It also demanded that those involved in the contemptuous campaign should be brought to task.
The statement was issued at the behest of SCBA President Muhammad Ahsan Bhoon.
It is worth mentioning here that a day ago, while hearing a petition against the PECA Ordinance, Justice Minallah had remarked that it appeared from Prime Minister Imran Khan's televised address that he was misguided about the law he had amended.
In his speech, the premier had said that the amendments were brought to the law because "social media was filled with filth such as child pornography".
He also referred to reports about his personal life and alleged activities at his Bani Gala residence.
COMMENTS
Comments are moderated and generally will be posted if they are on-topic and not abusive.
For more information, please see our Comments FAQ