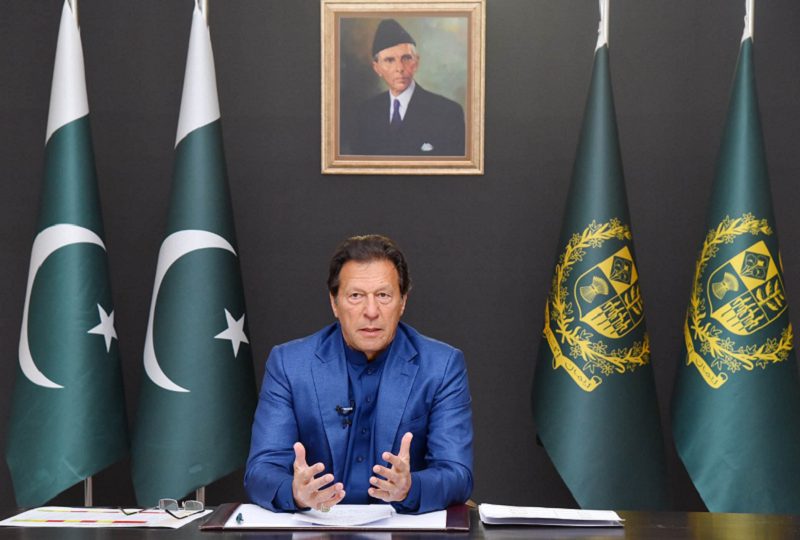 ---
ISLAMABAD:
Prime Minister Imran Khan announced on Monday Rs10 per litre reduction in the prices of petrol and diesel as well as Rs5 per unit cut in the electricity tariff, along with a bonanza of incentives in several areas of the economy.
In a televised address to the nation, the prime minister, while acknowledging the hue and cry made by the opposition parties about the runaway inflation, among other things, said that there would be no increase in the petrol, diesel and electricity charges until the next budget.
Imran's announcements are seen as clear deviation from the International Monetary Fund's (IMF) bailout package, wherein the government has already agreed to increase tax rates on the petroleum products. The government has consistently increased power tariff since it entered the IMF programme.
Imran's address to the nation came at a time when the opposition parties have mounted pressure on his government by threatening to send it packing with the no-confidence motion amid speculations that several members of the ruling Pakistan Tehreek-e-Insaf (PTI) were ready to jump ship.
Though the government would not admit, political pundits believed that the popular measures had been taken to neutralise the opposition parties' no-confidence move.
In his address, Imran also announced tax exemptions, subsidies, amnesty for industrial sector, stipends, internships and scholarships, while simultaneously making it clear that his government believed in making "independent foreign policy".
Surprisingly, Imran did not spend much time on the opposition's flurry of activities and its plan for a no-confidence motion. Admitting high inflation, he only asked the opposition to present a solution, if they had any, instead of just criticising the government and making it a ground for its ouster.
In his speech, he also defended the newly-promulgated amendments to the Pakistan Electronic Crimes Act (PECA), 2016, saying the criticism was unwarranted because the amendments were not aimed at curbing media freedom.
Read Ukraine-made world's largest cargo plane destroyed in Russian attack
In a roughly half-an-hour address, the prime minister, with the help of charts and graphs, also listed his government's achievements and compared its performance with the previous ones. He took credit for achieving a 5.6% growth rate, $31 billion remittances; highest exports and tax collections.
Incentives
Prime Minister Imran announced incentives for information technology (IT) sector by giving 100% tax exemption to both companies and freelancers; 100% foreign exchange exemption and 100% exemption from capital gains tax for investments in start-ups.
Also, the prime minister announced Rs407 billion subsidised loans to be provided in next two years under the Kamyab Pakistan Programme, saying that the loans would be given to youth, farmers and for low-cost housing.
Announcing an amnesty scheme for the industrial sector, Imran said that no question would be asked for industrial investment and efforts would be made for the revival of sick units through tax benefits. Besides, he declared five-year tax holiday to attract overseas investment in joint ventures.
Under the government's flagship Ehsaas programme, Imran increased stipend from Rs12,000 to Rs14,000 per month, announced a graduate internship stipend of Rs30,000 per month and allocated Rs2.6 million scholarships with Rs38 billion.
Additionally, he said that Rs1 million free medical cover to all citizens by end of March, 2022, except Sindh, adding that the health insurance under the Qaumi Sehat Card would help private medical hospitals to boost services in the rural areas.
PECA amendment
The prime minister emphasised on making foreign policy independent, keeping the country's interest supreme and not to take dictation from others. He defended the PECA Ordinance, saying that the amendments were brought because social media was filled with filth such as child pornography.
He said the content being shared on social media was causing a threat to the institution of family. He regretted that even he was not being spared, recalling that a few years ago a journalist had reported that his wife had left him and that he had done something illegal at his Bani Gala residence.
Lamenting that he filed a case but hasn't got relief in three years, he said the same journalist had now written that his wife has left the house. "If this can happen with the country's prime minister ... imagine what would happen to the rest of the people," he wondered.
Read more In pictures: Russian forces launch invasion of Ukraine with strikes on defences
Shocking as it may seem, Imran revealed that the same journalist was locked up and beaten for three days when he wrote about former prime minister Nawaz Sharif's corruption during the PML-N government.
The prime minister charged that there were journalists who were spreading filth in exchange for money, adding that the good journalists had no issue with PECA and would want fake news to be eliminated.
Imran recalled that three leading newspapers had carried stories, stating that the selection of AJK's PM was based on some magic and movement of stars. He said one can't even think about saying such things under a democracy in any other country.
Following the speech, social media was abuzz with different interpretations of the address but the two most common takeaways were that Imran was apparently readying himself and the party for the elections and, maybe, the government was thinking to say goodbye to the IMF programme.
Some others questioned how would the government pay for all the measures that the prime minister had announced. A PML-N spokesperson termed the address an attempt to "save his job and the sinking government boat".
COMMENTS
Comments are moderated and generally will be posted if they are on-topic and not abusive.
For more information, please see our Comments FAQ