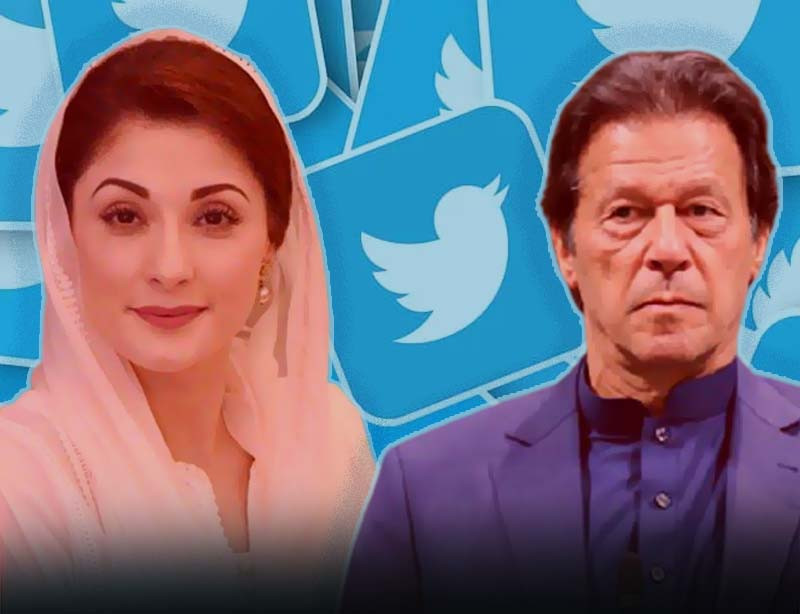 ---
LAHORE:
Twitter, the micro-blogging site bearing the bird logo, has most of us glued to our phones scrolling through our feed all day.
The platform, however, holds immense significance in shaping national narratives and political discourse in Pakistan apart from giving users that dopamine rush.
These were the findings of G5io, a data analytics research firm, in their report "Pakistan in 2021 - An Analysis of National Narratives on Twitter."
The report aims to shed light on how the platform is used for debate and discussion with a total of 9,000 trending hashtags analysed.
It also presents the majorly discussed issues of 2021 which revolved around politics, entertainment, sports, human rights, and religion.
Pakistan, which is home to over 46 million active social media users, has more than 20 per cent of the total population wired in to these platforms.
Politics was the most talked about subject followed by entertainment and sports.
The director at G5io, Hussain Nadeem, told The Express Tribune that the report aimed to fully assess the many conversations taking place on Twitter.
"We used data from trending hashtags and categorised it to find out what the most discussed subjects in Pakistan were," he said.
Nadim said that Twitter had become a dominant space for discourse, adding that,"It appears that politics is what people discuss the most."
Interestingly, the report highlighted how politics, which trends all year round, suddenly fades in the background when any other popular event or major news develops.
During sporting events such as the Pakistan Super League, or when a new season of Coke Studio is released, these topics take the lead with politics relegated to the back burner.
Seeing is believing?
This discovery, according to Nadim, led the G5io team to explore whether the conversations exist in real life or were fabricated to benefit political parties.
"Another interesting factor that comes into play here is that if these conversations were actually organic then why are they not centered on problems and issues currently being faced by Pakistanis? Why is it that amidst a major economic crisis only two per cent of the conversations on Twitter are about the economy?" Nadim went on to say.
The team at G5io believes that these conversations exist in an echo chamber— they "simply don't exist in the real world."
"How is this possible…through fake accounts and bots participating in online discussions and starting trends on Twitter," Nadim explained.
The G5io director was of the view that media cells of various political parties deliberately start discussions in order uphold their individual agendas.
"This is why, whenever an organic event takes place and people actually begin to use Twitter to create organic traffic, all the trending hashtags about politics go out the window," he said.
Crafting political narratives
Hashtags that trended the most on Twitter in 2021 were either about the opposition's Pakistan Muslim League-Nawaz (PML-N) or the ruling Pakistan Tehreek-e-Insaf (PTI).
The rival parties are continuosly trying to further their own rhetoric against one another on the platform.
Hina Pervaiz Butt, a member of the Punjab Assembly and a representative of the PML-N, said that her party's presence on Twitter was "absolutely deliberate".
The PML-N leader said that "we have a huge social media team owing to the relentless efforts of party vice-president Maryam Nawaz Sharif."
She said the party had hundreds of people in their social media cell across Pakistan, adding that, "the social media presence has drastically increased over the years."
"We [PML-N] have put in phenomenal effort to aggressively push the party agenda on social media. Members of the media cell are unpaid volunteers who strategically create political conversations on media platform," Hina said.
The hardline Tehreek-e-Labbaik Pakistan (TLP) also has an overwhelming presence on the social media platform.
While the TLP might not have a voter base as strong as PML-N or PTI, they can generate a larger number of tweets than either of these parties.
The G5io report presents that the TLP has the "biggest fire power" on Pakistani Twitter.
The TLP is not always the top trend, however, it is constantly generating the most tweets in terms of volume.
COMMENTS
Comments are moderated and generally will be posted if they are on-topic and not abusive.
For more information, please see our Comments FAQ