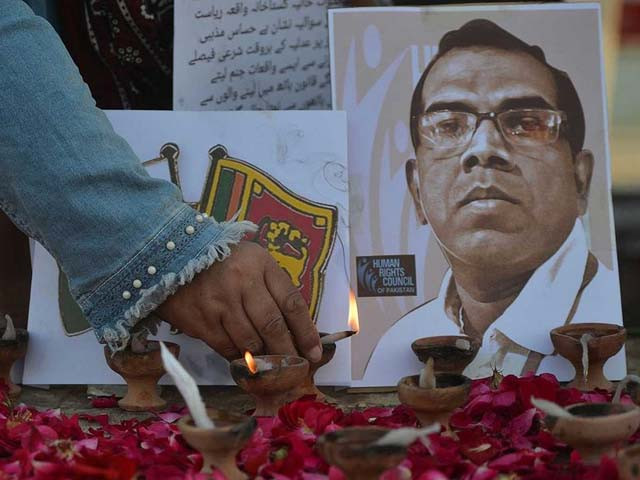 ---
GUJRANWALA:
An Anti-Terrorism Court on Friday convicted a Sialkot citizen, Muhammad Adnan, for supporting and justifying the gruesome lynching of Sri Lankan national Priyantha Kumara in a social media video after the incident.
In December, Kumara, who worked as a manager in a factory in Sialkot, was lynched by an angry mob on allegations that he had blasphemed.
According to case details, police had filed a report against Adnan on the complaint of sub inspector Mubarak Ali soon after the gruesome murder of Kumara.
The FIR said that Adnan had uploaded a video on social media in which he supported the actions of those involved in the lynching of Kumara.
Subsequently, the police arrested Adnan and presented him in the ATC Gujranwala.
Also read: Sialkot lynching: Widow receives salary, $100,000 donation
During the proceedings, the accused admitted to the charges framed against him. The court sentenced him to one-year imprisonment and imposed a penalty of Rs10,000.
Kumara was lynched and his body was set on fire. The workers of a garment factory, which was located on Sialkot's Wazirabad Road, had alleged that the Sri Lankan national had committed blasphemy, reportedly after he tore down some posters on the factory's walls ahead of a scheduled inspection.
The gruesome murder sent shockwaves across the country and drew widespread condemnation from citizens and senior government functionaries, including the president, prime minister and military's top leadership, who promised to bring all those involved in the incident to the book.
The police had arrested more than 100 suspects, including two individuals described as the main accused, for their involvement in the case.
Also read: 120 rounded up over Sialkot lynching
Further, the Council of Islamic Ideology at its 226th meeting in Islamabad demanded strict and exemplary punishment for the culprits involved in the lynching.
The CII observed that taking the law into one's own hands was against the teachings of the Holy Quran and Shariah.
Earlier this week, Pakistan transferred funds and first salary to the widow of Kumara.
According to a statement issued by the ruling Pakistan Tehreek-e-Insaf on Twitter, funds worth $100,000, along with a salary worth $1,667, have been transferred to the bank account of the widow of Kumara in Sri Lanka.
Prime Minister Imran Khan had announced that the business community in Sialkot collected $100,000 for the family of the deceased and that they would continue to send Kumara's salary to his widow.
COMMENTS
Comments are moderated and generally will be posted if they are on-topic and not abusive.
For more information, please see our Comments FAQ