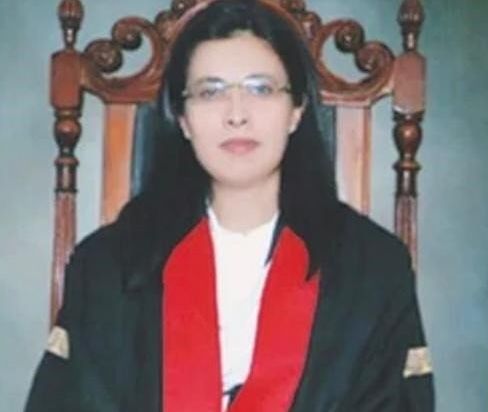 ---
ISLAMABAD:
Parliamentary Committee on Judges Appointment has unanimously approved the nomination of Lahore High Court's (LHC) Justice Ayesha Malik as a judge of the Supreme Court.
A member of the committee told The Express Tribune on Wednesday that the decision was made in light of Justice Ayesha's gender. However, the official insisted that the seniority principle will be adhered to in the future.
On Jan 6, the Judicial Commission of Pakistan (JCP) approved with a vote of five to four the nomination of Justice Ayesha Malik to the Supreme Court.
Read: Seniority excuse a bane
CJ Gulzar, Justice Umar Ata Bandial, retired judge Sarmad Jalal Osmani, Attorney General for Pakistan Khalid Jawed Khan and Law Minister Dr Farogh Naseem had endorsed her name for appointment as a Supreme Court judge, whereas Justice Qazi Faez Isa, Justice Maqbool Baqar, Justice Sardar Tariq Masood and PBC representative Akhtar Hussain had opposed her nomination.
The opposing four members had insisted that criteria should be evolved for the appointment of superior court judges first, adding that the seniority principle should be followed for the appointment of SC judges.
She will be the first female Supreme Court judge in the judicial history of Pakistan.
Justice Ayesha, number four on the LHC judges seniority list, became a judge in March 2012. She will now work as a Supreme Court judge until June 2031. She could also become the CJP after the retirement of Justice Yahya Afridi in January 2030.
Appointment of PHC judges
The committee did not approve the appointment of three district and sessions judges to the Peshawar High Court (PHC) as additional judges. The appointment of Fazal Subhan, Shahid Khan, and Dr Khurshid Iqbal was not approved as it violated the seniority principle.
It was learned that the committee sent their names back to the JCP for reconsideration because of the seniority issue.
The panel, however, approved the names of three lawyers for their appointment as the PHC judges. Their names are Kamran Hayat Miankhel, Muhammad Ijaz Khan, and Muhammad Faheem Wali.
In its last meeting, the JCP had approved six names for the appointment as additional judges of Peshawar High Court (PHC).
During the meeting, Justice Maqbool Baqar and Justice Sardar Tariq Masood had questioned the nominations of district and sessions judges as they were nominated against the seniority principle.
It was also learned that three senior-most district and sessions judges of Khyber Pakhtunkhwa were ignored during the meeting.
COMMENTS
Comments are moderated and generally will be posted if they are on-topic and not abusive.
For more information, please see our Comments FAQ