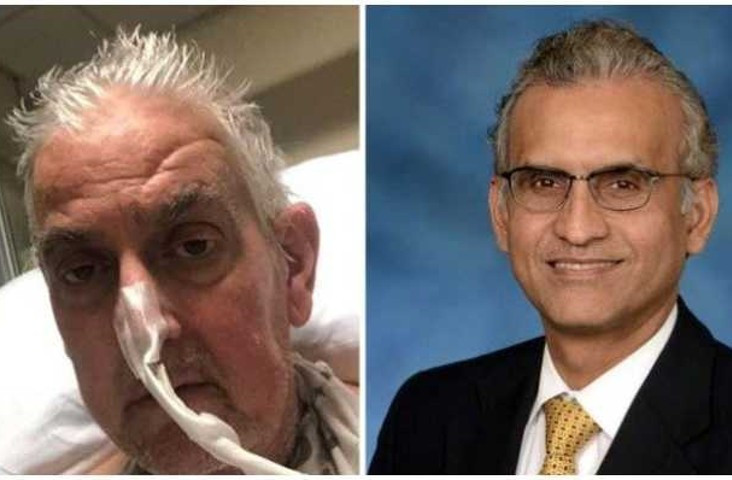 ---
A Pakistan-born surgeon was among a team of surgeons who made history by transplanting a pig heart into a human and the patient has survived several days so far.
Dr Mohammad Mohiuddin, MD, who is scientific and programme director of the Cardiac Xenotransplantation Programme at the University of Maryland School of Medicine (UMSOM), was directly involved in the transplantation.
Karachi-born Dr Mohiuddin is also one of the leading experts on transplanting animal organs, known as xenotransplantation. He also serves as the professor of surgery at the UMSOM.
"This is the culmination of years of highly complicated research to hone this technique in animals with survival times that have reached beyond nine months. The FDA used our data and data on the experimental pig to authorize the transplant in an end-stage heart disease patient who had no other treatment options," Dr Mohiuddin said according to a statement released by the UMSOM and the University of Maryland Medical Centre (UMMC).
Read more: US surgeons make history with pig heart transplant into man
Dr Mohiuddin received his MBBS degree from Karachi's Dow Medical College in 1989. He moved to the US and then received his first fellowship in transplantation biology at the University of Pennsylvania and later a fellowship in bone marrow transplantation at the Institute of Cellular Therapeutics, Drexel University, according to News18.
He further added that the information and findings that the team came across during the operation will benefit the medical community in the future. "The successful procedure provided valuable information to help the medical community improve this potentially life-saving method in future patients," he said
Dr Mohiuddin assisted Dr Bartley P Griffith, MD in transplanting the pig heart into the body of David Bennett, a Maryland resident.
The transplant was a desperate highly-experimental operation agreed to by recipient Bennett, 57, because he was dying and there was no other choice available, Bennett's son told the Associated Press.
Also read: Pakistani-American nominated to be part of Biden's economic team
"It was either die or do this transplant," Bennett said in a statement the day prior to the operation. "I want to live. I know it's a shot in the dark, but it's my last choice,"
The pioneering transplant may open the door to future use of animal rather than human organs. The latter are in short supply from donors.
There is a track record on animal organ transplants into humans -- it's called xenotransplantation -- and it is not good. For example, in 1984, a baboon heart was transplanted into an infant and the baby lived for only 21 days.
But surgeons said this time, a gene-editing step was taken to remove sugar from the cells. Sugar is the culprit for the rapid rejection of animal organs by the human body.
The American Food and Drug Administration, which must OK xenotransplantation surgeries, gave the go-ahead under "compassionate use." In other words, the patient was doomed without the transplant.
It is being hailed as a quantum leap forward, moving the bar after doctors in New York attached a pig liver temporarily to a cadaver last September and watched its function. Dr Robert Montgomery led that operation, and he has high hopes after the Maryland success.
"This is a truly remarkable breakthrough," Montgomery said in a statement. "As a heart transplant recipient myself with a genetic heart disorder, I am thrilled by this news and the hope it gives to my family and other patients who will eventually be saved by this breakthrough."
COMMENTS
Comments are moderated and generally will be posted if they are on-topic and not abusive.
For more information, please see our Comments FAQ