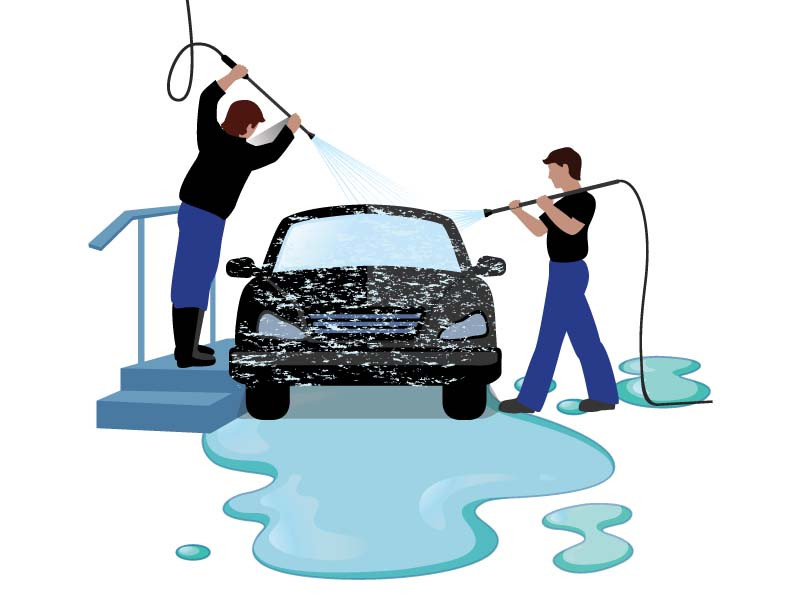 ---
PESHAWAR:
With the long spell of rain finally subsiding, people have started queuing up at service stations to give their vehicles a much needed post-rain wash at the expense of clean drinking water.
As per data collected by The Express Tribune, in Khyber Pakhtunkhwa (K-P), a household with around 8.5 individuals requires at least 382.2 gallons or 1,447 liters of water per day - which translates into one individual requiring at least 45 gallons or 170 liters daily.
In contrast, as per Syed Turab Shah, who is the Zonal Manager of Peshawar's Water and Sanitation Services Company (WSSC), service stations require a whopping 578,800 liters of water per day. "One service station uses the water equivalent to 400 households' water usage," he elaborated.
Keeping in mind the wastage, the WSSC recently told the car washing stations in its jurisdiction to switch to storing rainwater and using it for cleaning vehicles. Shah informed that the company advised rainwater harvesting to many people and offered them subsidies from the government. However, the instructions and offer fell on deaf ears and nothing materialized as service station owners were not interested in investing in tanks for storage or other equipment to clean rainwater.
"We have our own pumping system for which we use electricity and pay the utility bill," Muhammad Islam Khan, a car wash owner on Kohat road informed. Khan was of the opinion that they would have followed WSSC's instructions had they been utilizing water supplied from a government run tube well.
According to the data obtained by The Express Tribune, there are around 417 service stations, like Khan's, which are within the limits of the company but less than 200 are registered - meaning that the WSSC has not granted them a no-objection certificate (NOC).
However, dozens of service stations are unaware of the NOC requirement. "We just had this deck constructed at the petrol pump and we pay rent for it. We do not have any knowledge about whether we need a permit for a car wash," informed Saleem Afridi, who recently opened up a service station, some eight kilometers south of Peshawar, on the Indus Highway, which falls within the jurisdiction of the provincial capital. When asked about potential visits from inspection teams, Afridi said that he opened up the facility four months ago but was never asked for official papers.
Read More: The throne of the water spring
When inquired about any legal action that the WSSC had taken to stop the wastage of clean water, Shah, the Zonal Manager at the company, while talking to The Express Tribune, stated that flow meters were introduced and some 281 flow meters were distributed. The flow meters measure the flow of the water used by a service station in a day and were to help the company set a maximum cap on how much water could be used per day. "Only 169 service stations agreed to install the meters, the rest challenged the company's decision in the court of law," he informed.
Khan, the service station owner at Kohat road, when inquired about his reluctance to use flow meters, cheekily remarked that one accepts the government's offer when you depend on them but when you do not, you do not need their offers or instructions. "Why do I need to allow them entry into our property to monitor anything when we do not use their facilities? I already pay the tax, is that not enough?" Khan inquired from The Express Tribune
Published in The Express Tribune, January 12th, 2022.
COMMENTS
Comments are moderated and generally will be posted if they are on-topic and not abusive.
For more information, please see our Comments FAQ