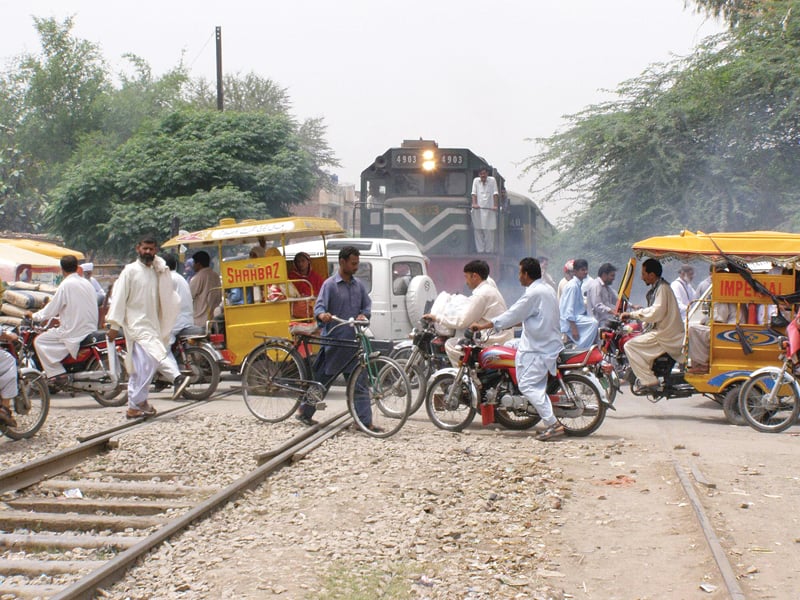 ---
KARACHI:
In a sheer act of madness, two men tried to outrun a train by racing their vehicles across the track even though the railway crossing gate on the Cattle Market Road in Karachi was closed.
Muhammad Miskin Nawaz, 57, and Juniad Haris, 45, had to jump from their car and rickshaw, respectively, to save their lives. The two drivers suffered slight injuries as they leaped to safety, but the incoming train rammed into their rickshaw and car at the railway crossing in the Bhains Colony area. Both the drivers were trying to cross the railway crossing in a hasty manner.
Sources said, the railway gate in Bhains Colony was closed for the passing train and the traffic was waiting as usual for the locomotive to pass by. Meanwhile, two men, one driving a rickshaw and the other an old hatchback, tried to cross the track by bypassing the gate.
Read more: Unmanned railway crossings a fatal threat
However, their tyres got stuck in the tracks. With apparent death approaching them in seconds with the chugging juggernaut, the two jumped to safety and the train rammed into their vehicles.
The rickshaw and the car were badly damaged in the collision.
As soon as the incident was reported, rescue workers rushed to the spot, and the injured were rushed to a nearby hospital for treatment. According to rescue officials, the condition of Nawaz and Haris was out of danger, though their vehicles were totally wrecked due to their haste.
COMMENTS
Comments are moderated and generally will be posted if they are on-topic and not abusive.
For more information, please see our Comments FAQ