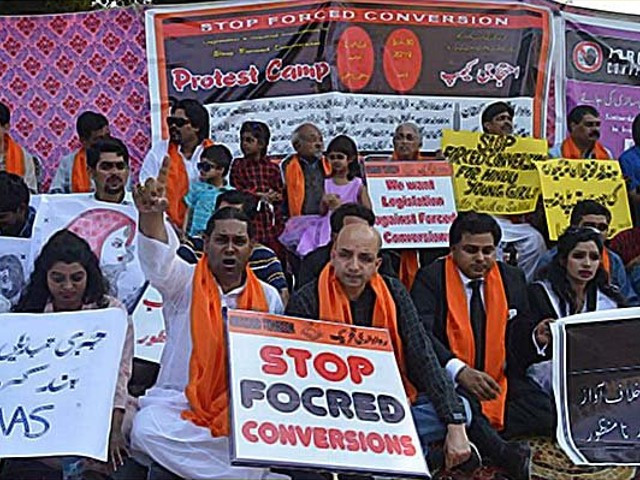 ---
LAHORE:
The number of reported cases of forced conversion in the country rose fourfold in 2021 as compared to the previous year, a rights activist has asserted.
The director of the Centre for Social Justice (CSJ), Peter Jacob, said while speaking at a provincial convention of representatives of minorities on 'Effective and empowered minority representation in local government system' that around 70 per cent of girls converted forcibly during the past year were under 18 years of age.
"In 2020, 15 cases were highlighted in the media but in 2021 some 60 cases were highlighted," he informed the participants in his presentation. The rights expert referred to ambiguities in the population of minorities in the 2017 census, situation of forced conversions in 2021 and implementation of the local government ordinance.
"As per the data of the census, the total population of religious minorities in Pakistan in 2017 was 3.54%. However, the figure in 1998 was 3.72% and this shows a 0.18% decrease, including a 0.5% decline in Christians' population. The percentage of Christians in Pakistan was 1.55% in 1981 that increased to 1.58% in 1998 and drastically fell to 1.27% in 2017 with no concrete reason given," he said.
Read Police halt probe into alleged kidnapping of Christian girl
Peter Jacob said the Local Government Ordinance 2020 and the proposal of direct elections at each level were laudable, while the polls should be held at the earliest.
Punjab Minister for Human Rights and Minority Affairs Ijaz Alam Augustine said, "During the last 20 years we have seen different local government systems but we also saw that in each system the representation of minorities was not effective and empowered as it should be."
He added, "Our political parties have a system where we don't want to devolve power. No one wants to delegate power. MPAs and MNAs themselves don't want their local influence to be shared. It's time that minority representatives at each level should take action and be vocal for their effective and empowered representation".
Augustine said the new local body law had a lot of opportunities for minorities, especially since they could get direct votes. He said 30% of the provincial funds would go to the local government system. There will also been direct funding of the local bodies. "Beyond the party lines, we have to change the mindset of discrimination against minorities," he added.
The minister said many issues plagued the minorities at a local level, because of which they needed a stronger connection with the provincial and federal governments, which could be established through the local government system.
COMMENTS
Comments are moderated and generally will be posted if they are on-topic and not abusive.
For more information, please see our Comments FAQ