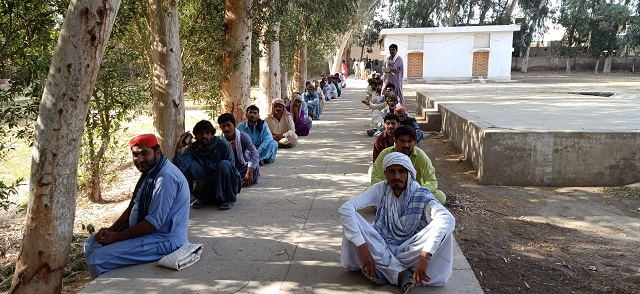 ---
ISLAMABAD:
The Economic Coordination Committee (ECC) on Friday approved the summary of Poverty Alleviation & Social Safety (PASS) Division for launching of the Ehsaas Targeted Commodity Subsidy Programme (ETCSP), allowing 8% Ehsaas Rashan commission for Kiryana retailers.
The ECC met here with Economic Affairs Minister Omar Ayub Khan in the chair. The meeting discussed the summary moved by titled Poverty Alleviation and Social Safety (Pass) Division for launching the ETCSP, said an official statement issued here.
The total amount of ETCSP is Rs106.1 billion and covers the period from January 1, to June 30, 2022. It includes subsidy for beneficiaries, incentive for Kiryana stores, SMS charges for Telecom operators, verification charges to the Pakistan Mobile Numbers Portability Database and the National Database and Registration Authority (NADRA), mobilisation charges, National Bank of Pakistan (NBP) costs and other operational expenditures.
The meeting was informed that field visits, market surveys, and meetings with local shop owners and traders associations were conducted in dozens of cities across the country. Besides, wide ranking consultations were also held with relevant provincial and federal stakeholders.
Read more: 9.6m families registered under Ehsaas Ration Programme
In order to implement the programme, the Pass Division would sign a memorandum of Understanding (MoU) with the NBP and reimburse all relevant costs incurred by the NBP on a monthly basis, according to the statement.
The Pass Division would hire external auditor to review all transactions – subsidy and vendor payments. "The three items covered under the ETCSP are essential commodities with inelastic demand, therefore, adoption of local prices will be allowed for the disbursement of the fixed per unit subsidy," it added.
Special Assistant to Prime Minister on Poverty Alleviation Dr Sania Nishtar said that the 8% special commission for retailers was absolutely in accordance with the global best practices. She added that the ETCSP would also encourage the Kiryana retailers to help a government disburse subsidy on Rashan.
"Empowering Kiryana retailers, the Ehsaas Rashan commission will also enable them to shift from cash-based transactions to electronic dealings, open their bank accounts, install small internet enabled devices and compensate for additional time spent on processing," she added.
According to another official statement, Karyana retailers will also benefit from lucky draws every quarter, winning cars, motorcycles, mobile phones and various other prizes. Currently, the Ehsaas Rashan portal (https://ehsaasrashan.pass.gov.pk/) is open to register Kiryana retailers countrywide.
Also read: Applications sought for Ehsaas scholarships
The Ehsaas Rashan Riayat has been introduced in line with Prime Minister Imran Khan's vision for uplifting the poorest segments of society. The programme is funded jointly by the federal and provincial governments of Punjab, Khyber Pakhtunkhwa, Azad Jammu and Kashmir and Gilgit-Baltistan.
The Ehsaas Rashan covers wheat flour, pulses, cooking oil and ghee. The programme will serve 20 million families through a network of Ehsaas Rashan-enabled Kiryana stores. Each eligible family will be given a monthly subsidy of Rs1,000.
COMMENTS
Comments are moderated and generally will be posted if they are on-topic and not abusive.
For more information, please see our Comments FAQ