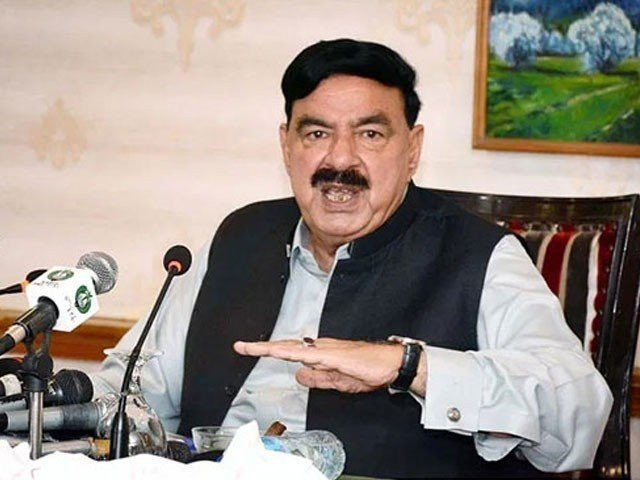 ---
ISLAMABAD:
Federal Minister for Interior Sheikh Rashid announced on Wednesday that former chief justice of Gilgit-Baltistan Rana Shamim's name has been placed on the Provincial National Identification List (PNIL) "so he doesn't run away".
Talking to the media in Islamabad, the minister said that there will be a meeting to determine if the former chief justice's name should be added to the Exit Control List (ECL).
The interior minister further stated that former prime minister and PML-N leader Nawaz Sharif cannot come to Pakistan, but if he wants to, he will have to provide documents relevant to his passport within 24 hours.
Nawaz's passport expired earlier this year, and since he is on the ECL he cannot apply for a new one.
"If he shows the intention to come to Pakistan, we can even have the documents delivered to his house," he said.
The minister also asked the Pakistan Democratic Movement (PDM) to reschedule their rally from March 23 to March 30, claiming that the time given by them was to in efforts to garner fame.
Read Govt to handle PDM march 'politely' if law not taken into hands: Rashid
He maintained that overseas Pakistanis were unhappy with the opposition.
According to the interior minister, the incumbent government will provide maximum facilities to overseas Pakistanis, with online passports being provided in 191 countries and e-passports launching soon.
"We hope that e-passports will launch within the next 100 days," he said.
National Action Plan
The minister stated that special attention was being paid to the National Action Plan (NAP), which is aimed at taking result-oriented measures to counter terrorism in the country.
"I've told NAP [officials] that you have to actively and strictly deal with those who are the basis of our country's disrepute in the world and the demoralisation of the police so that the country can escape this infamy," the interior minister said.
Rashid added that regular updates would be provided to the nation on NAP as per the prime minister's instructions, to keep people briefed about developments.
He further stated that he has ordered "strict action" against those defaming the country.
His remarks came a week after the brutal Sialkot lynching, where a Sri Lankan man was killed and burnt by a mob on blasphemy allegations.
"I have ordered the Federal Investigation Agency (FIA) to take action against major players," he said, referring to those responsible for the fluctuating prices of the US dollar and Pakistani rupee in the country.
COMMENTS
Comments are moderated and generally will be posted if they are on-topic and not abusive.
For more information, please see our Comments FAQ