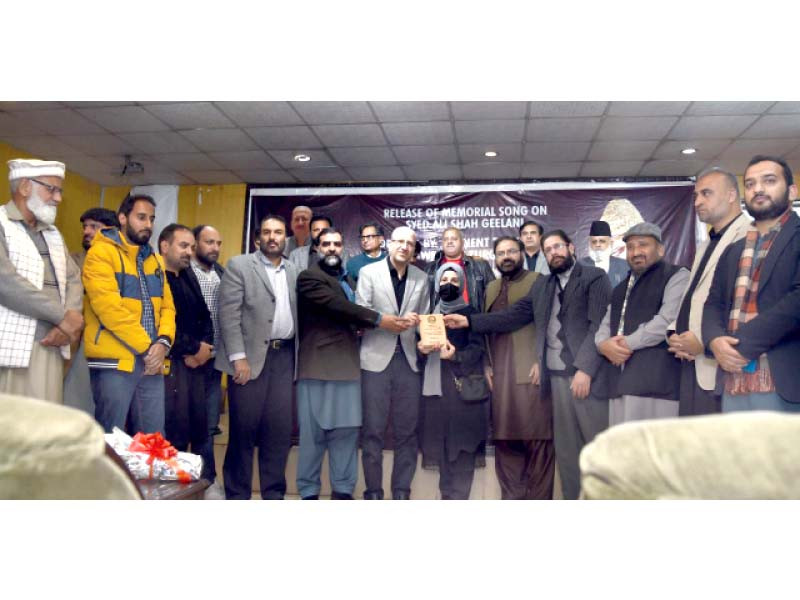 ---
ISLAMABAD:
Eminent Turkish songwriter and poet Turgay Evren officially released a special song in the memory of Indian Illegally Occupied Jammu and Kashmir (IIOJK) leader Late Syed Ali Shah Geelani, reflecting on his lifelong services for the Kashmir cause here at the National Press Club (NPC) Islamabad on Saturday.
The event was presided over by former Public Accounts Committee Azad Jammu and Kashmir (AJK) Chairman Abdul Rasheed Turabi and was hosted by Jammu Kashmir Salvation Movement Chairman Altaf Ahmed Bhat.
Speaking on the occasion, Turabi said that Pak-Turk friendship is everlasting and the Turkish government and people have raised their voice at every level to support Kashmiris for their right to self-determination.
Meanwhile, Bhat said that the song written by Turgay Evren in tribute to Shaheed Syed Ali Geelani was a source of motivation for Kashmiris living in IIOJK and all around the world.
"We should not forget our duty to keep reminding the world about the barbarism against the oppressed in IIOJK," said Bhat.
Read 'US exit from Afghanistan leaves space for Pak-Turk leadership in region'
Journalists should continue spreading the word about heroes such as Burhan Wani, Neelofar, Asiya Andrabi, Yasin Malik, Shabir Shah in their columns and stories, he added.
Turkish poet Turgay Evren then took the floor and said that in IIOJK, innocent Kashmiris are being martyred through fake encounters, women are forced to live as half-widows and innocent children have been blinded by the use of pellet guns.
"Kashmiri mothers are our mothers, Kashmiri sisters are our sisters, all of you be the voice for Kashmir," said Evren. "If the human intention is strong, then everything is possible."
He added, "We need more unity. Syed Ali Geelani fought for Kashmir till the age of 92, and India remained terrified of his legacy even after his death. These are our heroes who have spent most of their lives fighting for Kashmir in jail."
Published in The Express Tribune, December 5th, 2021.
COMMENTS (1)
Comments are moderated and generally will be posted if they are on-topic and not abusive.
For more information, please see our Comments FAQ