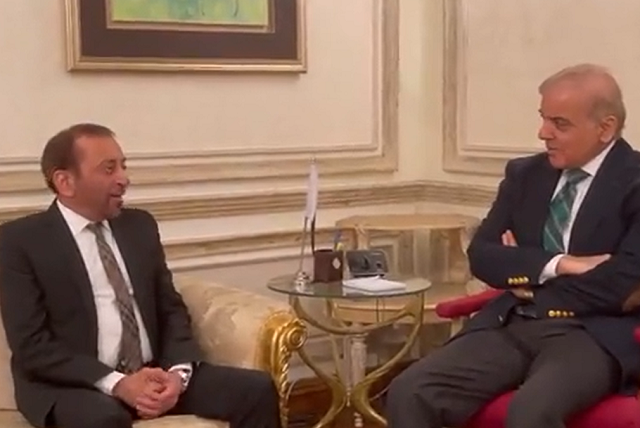 ---
LAHORE:
PML-N President and National Assembly Opposition Leader Shahbaz Sharif met with former convener of MQM Coordination Committee Dr Farooq Sattar and discussed matters pertaining to national and political importance.
Sharif warmly welcomed Dr Sattar at his residence in Model Town Lahore. PML-N Secretary General Ahsan Iqbal, Former federal minister Khawaja Saad Rafique and former National Assembly speaker Sardar Ayaz Sadiq were also present in the meeting.
The two leaders discussed the overall situation in the country apart from the prevailing political issues. Both leaders expressed concern over the country's worsening catastrophic economic condition and uncontrollable inflation. They agreed that the current circumstances demanded a change in the country.
Sharif and Sattar also discussed the electronic voting machines issue and the government's electoral reform initiatives. They reiterated to continue communication and consultation in this regard in the future.
Speaking to the media after the meeting, Sattar said they have agreed to form committees in order to find a meaningful solution of problems faced by our country and the province of Sindh.
Read Shehbaz reaches across political divisions to strengthen anti-govt front
He added that both sides will name four people each to be part of the new committee.
On the other hand, PML-N leader Ahsan Iqbal said the incumbent government would not have existed if a phone call had not come to their rescue.
Iqbal added that these phone calls would also stop aiding this incompetent government very soon.
He highlighted how the country was going through a critical phase where all political forces needed to work together for the country's betterment.
PML-N left a prosperous Pakistan but the PTI government surrendered the country before IMF and another brotherly nation for a loan, Iqbal said.
It is pertinent to mention that Shehbaz Sharif has initiated a contact drive where he is taking anti-PTI government leaders on board. A day earlier, he had also spoken with PSP leader Mustafa Kamal over the phone.
COMMENTS
Comments are moderated and generally will be posted if they are on-topic and not abusive.
For more information, please see our Comments FAQ