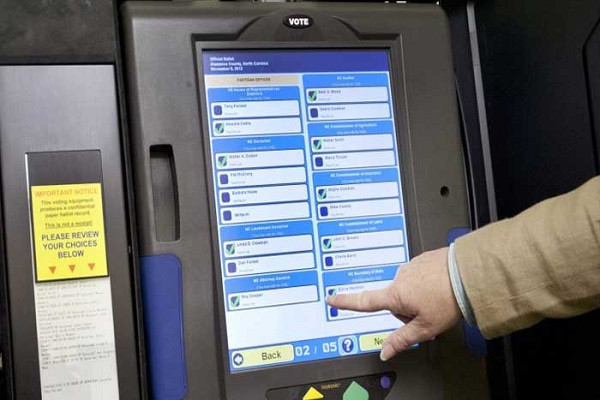 ---
LAHORE:
The Punjab government might hold the upcoming local government elections through electronic voting machines (EVMs), it was learnt on Wednesday.
The proposal for using electronic machines in the LG elections, scheduled to take place next year, was discussed during a meeting held under the chairmanship of Punjab Chief Minister Sardar Usman Buzdar on Wednesday.
While giving a nod for the digitisation of the electoral process as per the ruling party's policy, the chief minister also directed senior party leaders to take on board the allies of the Pakistan Tehreek-e-Insaf regarding the decision, especially the Pakistan Muslim League-Quaid (PML-Q), which had earlier expressed reservations over the ruling party's attitude towards its allies.
Read more: ECP rejects govt's 'intimidation to rush EVMs purchase'
Addressing the participants of the meeting, Buzdar underscored that the draft of the new local government act had been prepared in consultation with allies and several stakeholders. It would empower the people at the grassroots level, he added.
The provincial government's decision to use electronic machines in the LG polls comes after the federal government, on November 24, issued an ordinance for using the electronic voting machines in the upcoming local government elections in Islamabad.The federal government made amendments to the Elections Act, 2017, which were passed in a joint session of parliament amid fervent protest by the opposition earlier this month.
Also read: ECP sends its wish-list to govt for EVM use
The amendments allowed the use of EVMs and granted voting rights to overseas Pakistanis, to which the opposition has repeatedly expressed reservations.
The meeting was attended by the Punjab Local Government Minister Mian Mahmoodur Rasheed, Punjab Law Minister Raja Basharat, Local Government Department secretary and other senior officials.
COMMENTS
Comments are moderated and generally will be posted if they are on-topic and not abusive.
For more information, please see our Comments FAQ