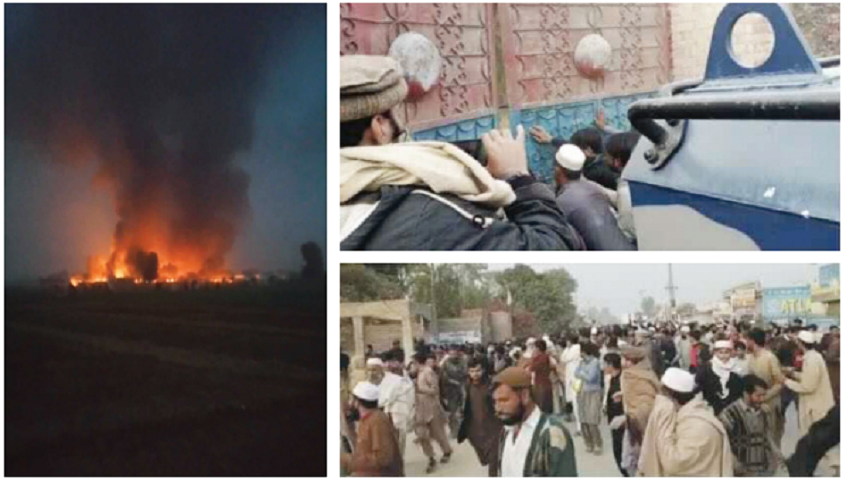 ---
CHARSADDA:
An infuriated mob on Sunday vandalised a police station in KhyberPakhtunkhwa's Charsadda district and set it on fire after authorities refused to hand over a man arrested earlier for allegedly desecrating the Holy Quran.
They also set ablaze a police check post on Harichand Road and blocked the road for traffic. According to Khyber-Pakhtunkhwa Law Minister Fazal Shakoor, local police had shifted a suspect to Mandani police station in Charsadda after apprehending him for allegedly desecrating the Quran. Later, a mob reached the police station and demanded of the officials to hand them over the blasphemy suspect in custody.
Upon refusal by the police to entertain their demands, more people began joining the mob which increased agitation and as a result the police station was attacked. Minister Shakoor said the scores of attackers also vandalized the vehicles parked in the police station. Sources familiar with the matter said the blasphemy suspect was shifted to a safer location. "The suspect who has been arrested will be proceeded against in accordance with the law," he said.
"The government will not allow anyone to take the law into their own hands." Given that the prevailing situation in the area was still tense, the police have not confirmed any casualties in the attack nor have they released any details of the blasphemy suspect in custody. The attack was also confirmed by Peshawar Commissioner Riaz Mehsud. He added that around 4,000 to 5,000 people had attacked the police post. "Blasphemy suspect is in safe custody."
Confirming the attack, Charsadda police spokesperson Shafiullah Jan said a tense situation continued to prevail in the area but police were trying to bring it under control. A police official, on the condition of anonymity, blamed the police force for not controlling the angry mob. "The situation is still tense and police personnel from other areas have also reached the spot to control the mob," he said. Another police official said the police station had been completely destroyed including a number of vehicles and police record.
Following the attack, the mob staged a sit-in on Harichand Road which was later dispersed after the district administration accompanied by local religious elders held talks with the protestors. The police had used aerial firing and tear-gas shelling to disperse the crowd.
COMMENTS
Comments are moderated and generally will be posted if they are on-topic and not abusive.
For more information, please see our Comments FAQ